12-Dec-08 – 18:18 by ToddG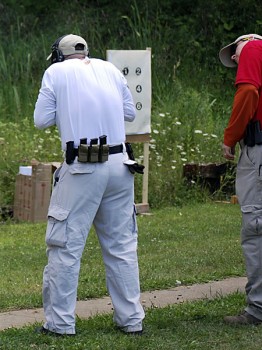 A major part of teaching is the ability to diagnose and correct shooter errors. While it is certainly wonderful to show others the right way, simply shouting "no, like this!" over and over isn't going to get students anywhere. The ability to look at what the shooter is doing and figure out where he is making mistakes is therefore critical to being a good instructor.
Unfortunately, this is one area in which many instructors, especially new instructors, struggle. If a teacher does little more than parrot what he's been taught by others, odds are he doesn't understand what he's doing or more importantly why he is doing it. Assume your students are going to ask, "Why?" every time you tell them something … and have a good answer prepared.
While every instructor is different and so is every student, there are a few guidelines that I find help me when I'm teaching. Follow these and you may avoid some of the traps other instructors fall into when they try to fix students' problems.
Watch the student while he shoots, not the target. The bullet hole will still be there after the big loud noise is all gone. You can't see what the shooter is doing after the fact, though. Trying to diagnose problems solely by watching where bullets land is a fallacy. See Do's and Don'ts of the Correction Target.
 
Watch the student perform a skill or drill multiple times before jumping to conclusions. Anyone can anticipate a shot once in a while … don't call the student out for it unless it's a habit rather than a momentary lapse.
 
Watch the whole student at first. Often an instructor stares at the muzzle or the front sight or the trigger finger looking for classic errors, completely oblivious to bigger problems. One of the most embarrassing things I see is when an instructor gets wrapped up in trying to fix some minor grip issue with a shooter who is closing his eyes and leaning over backwards every time he fires the gun. Also, paying attention to the student as a whole will give you a better idea of when the student is exhausted, losing focus, or otherwise needs a break.
 
When you pick up on multiple errors, fix the easiest ones first. This allows the shooter to see immediate improvement based on your feedback, making him more attentive and motivated.
 
Along the same lines, only fix one problem at a time. Don't confuse the student and don't divide his concentration any more than it already is. Find a problem, fix the problem, then move on to the next problem.
 
Learn to let it go. Some shooters just aren't going to fix some problems during an hour or even a day on the range. Much of this stuff takes practice. The key is to reach a point where the student can recognize the mistake … he can then go and fix it himself over the course of many practice sessions if necessary.
 
Have more than one fix. Plenty of people anticipate recoil, and there are a few very common techniques and drills to overcome that problem. Know all of them. Because while one drill might work for most students, you can be certain that you'll eventually come across a guy that just doesn't get it. Have a Plan B.
 
Be prepared for "But that's the way I was taught to do it!" This gets back to understanding why you teach the techniques you do. Be able to explain that you want him to grip the gun this way, or stand that way, or pull the trigger like so, because of reasons A, B, and C. And if he just does not want to do it your way … see "Learn to let it go," above.
 
Never lose your patience. You might think you're giving a brilliant explanation and demonstration, but your student might still be confused as can be. As long as the student is paying attention, don't blame the student. If you're having a communication issue, try a different approach. If the student just is not getting it, move on for now and come back to it later.
 
When you have multiple students on the line at once, never get bogged down with one problem child. Diagnose one problem, address it, and move on to the next student. Come back to the problem child as often as you need to, but don't get hung up watching him and only him to the detriment of your other students. Not only will their learning suffer, they'll be ticked off.
 
Be positive. Never treat a mistake as the end of the world. More importantly, when the student does well — especially if he takes something you told him and applies it to shoot better — let him know he's doing it right! If the only comments your student hears from you is "wrong wrong wrong" he's going to lose motivation fast.
The more effective you are at diagnosing students as individuals rather than just shouting out commands to the firing line, the faster your students will learn and the more fun they'll have doing it.
Train hard & stay safe! ToddG