14-Jan-09 – 20:36 by ToddG
On display ready for the SHOT Show opening tomorrow: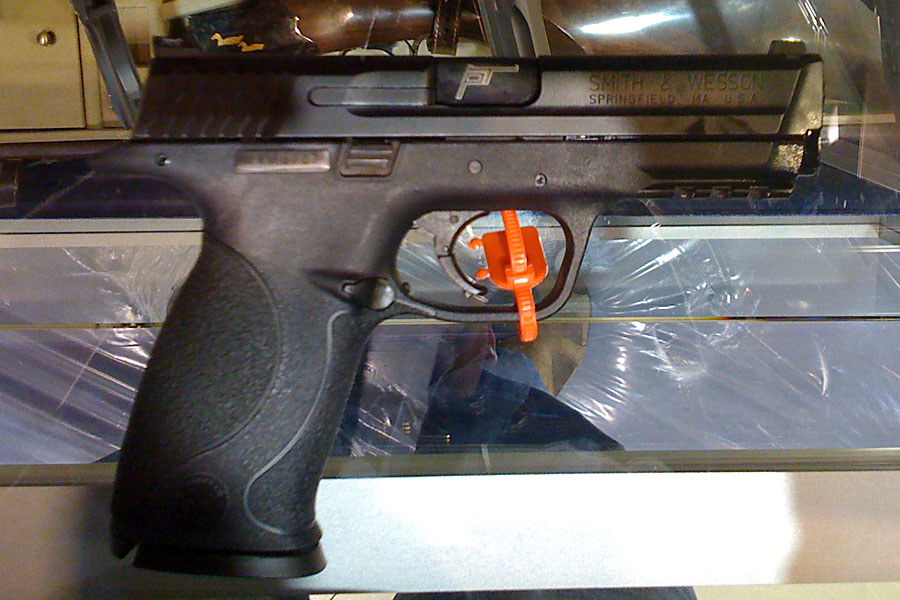 A huge thank you to Joe Bergeron and all the other great folks at Smith & Wesson who brought this to life. And most of all, thanks go out to all of the pistol-training.com readers, mp-pistol.com members, and M4Carbine.net members who offered suggestions and encouragement over the past few months as we fought to make this happen. In particular, that includes mp-pistol.com's David for our great logo and M4Carbine.net's lindertw for coming up with the great idea to put the logo on the barrel like that.
Full size M&P9 pistol
Performance Center sear
heavy trigger bar and trigger spring (for stronger, faster reset and approximately 6½ pound trigger pull)
Warren Tactical 2-dot Night Sights
Three magazines (17rd where allowed by law; 10rd where required by law)
pistol-training.com logo on the barrel
These pistols will be available exclusively through G&R Tactical. The first fifty people to pre-order one of the guns will also receive a free pistol-training.com hat. Because you can never have too many hats, right?
The endurance test gun from our M&P Mondays segment will also be on display at Smith & Wesson's booth. If you'll be at the show, check it out!