3-Feb-09 – 16:17 by ToddG
As we reported in December, the M&P Endurance Test ended at 62,333 rounds … 12,333 rounds more than originally planned. Smith & Wesson proudly had the test pistol on display at their 2009 SHOT Show booth.
But even though the slide developed a crack, we promised a follow up to check the accuracy. To achieve this, we will be performing two different accuracy tests with the Endurance Test gun. One was performed yesterday, and the second will be performed next Monday with a report to be filed immediately thereafter.
Test #1: Without any cleaning or lubrication, shoot five 5-round groups at 25yd from the bench for accuracy. Almost 9,500 rounds had been through the gun since the last cleaning.
Test #2: Perform a detailed strip & cleaning of the pistol and repeat the accuracy test.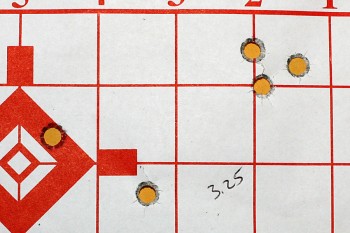 The first test was performed yesterday. While accuracy was still on par with typical service weapons, there was a noticeable drop from the last test (Week 26, at 52,900 rounds). Some groups were excellent — see the 1.19″ group pictured at the beginning of this post — but others showed noticeable horizontal stringing (see picture at right).
The overall average for the five groups was 2.88 inches.
We'll perform the second and final accuracy check next week.
Federal 124gr +p HST
week 1: 1.46″
week 6: 2.05″
week 10: 1.69″
week 17: 1.99″
week 22: 1.92″
week 26: 1.72″ (after thorough cleaning)
Post-Test Accuracy Check #1: 2.88″
PLEASE NOTE: Neither pistol-training.com nor Smith & Wesson recommend or condone firing a pistol with known broken components. This test was performed by a shooter with extensive training and experience in firearms test protocols. Do not try this at home. If you detect a broken component in any firearm, clear the gun and return it to the manufacturer for service at once.
Train hard & stay safe! ToddG