2-Mar-09 – 00:30 by ToddG
Last month, we checked the accuracy of the M&P9 "endurance test" gun after the pistol was returned from S&W's SHOT Show Booth. The result was about one inch greater group size than before the slide developed the crack which ended our test.
As promised — though a bit belated — we did a thorough cleaning of the gun, including allowing the barrel to soak overnight in Shooter's Choice, then tested the pistol's accuracy again. The results were nothing short of spectacular.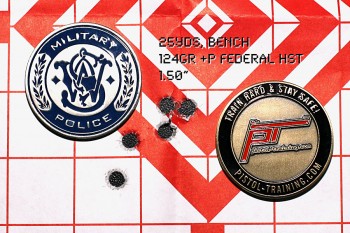 As you can see in the photo (R), the pistol is still capable of outstanding 25 yard accuracy. That 1.50″ group was the best of the bunch, with the other groups measuring 2.15″, 2.04″, 1.83″, and 1.64″ … averaging 1.83″!
That is just 0.11″ off from the Week 26 (52,900 rounds) test, which was the last time we thoroughly cleaned the pistol. That tenth of an inch could easily be the result of just one bad (shooter induced) shot out of the entire series. For all intents and purposes, this gun is literally just as accurate as it was before the slide crack.
Federal 124gr +p HST
week 1: 1.46″
week 6: 2.05″
week 10: 1.69″
week 17: 1.99″
week 22: 1.92″ (after thorough cleaning)

Post-Test Accuracy Check #1: 2.88″ (dirty gun)

Post-Test Accuracy Check #2: 1.83″ (clean gun)
PLEASE NOTE: Neither pistol-training.com nor Smith & Wesson recommend or condone firing a pistol with known broken components. This test was performed by a shooter with extensive training and experience in firearms test protocols. Do not try this at home. If you detect a broken component in any firearm, clear the gun and return it to the manufacturer for service at once.
Train hard & stay safe! ToddG