22-May-09 – 19:10 by ToddG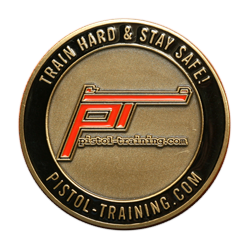 Congratulations to Todd Kennedy for being the latest shooter to earn a pistol-training.com F.A.S.T. Challenge Coin. Todd shot the drill clean twice, scoring 4.60 and then an outstanding 4.16 seconds.
Special Agent Kennedy is the Firearms Training Manager for the Bureau of Alcohol, Tobacco, Firearms, & Explosives National Academy in Glynco, GA. He is also an accomplished Master-class USPSA and IDPA competitor whose most recent victory was winning the Limited 10 Division at this year's Area 6 USPSA Championship.
Todd is now the fourth pistol-training.com coin recipient.
Coin 00 — Todd Louis Green
Coin 01 — SLG
Coin 02 — Dave Sevigny
Coin 03 — Todd Kennedy
Great job and congratulations again, Todd!
Train hard & stay safe! ToddG