8-Jul-09 – 22:21 by ToddG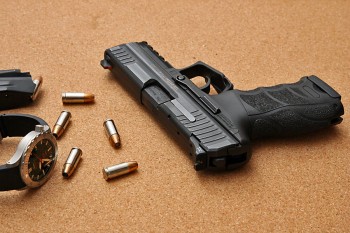 Tonight, with the help of my buddy Josh, the P30 endurance test gun passed the 2,000 Round Challenge.
Before the test began, the gun was quickly cleaned and got a dose of Militec-1 gun oil in all the right places. After that, it fired the 2,000 rounds over the course of three shooting sessions without additional cleaning, without additional lubrication, and without a single stoppage of any kind. To make things tougher on the P30, we even used 115gr Blazer — which had been the gun's bane previously, and which is specifically not recommended by the manufacturer — for the last 100 rounds of the test.
The folks at HK-USA clearly excised whatever gremlin had been living in this gun, because now it's as reliable as a pistol can be.
More details to follow tomorrow for the regular P30 Thursday.
Train hard & stay safe! ToddG