14-Mar-08 – 15:06 by ToddG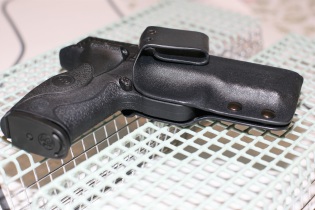 Developed by Custom Carry Concepts with input from ToddG at pistol-training.com, the "Looper" is a kydex IWB holster that eliminates one of the biggest weaknesses seen in competing products: thin kydex clips that snap in half under stress.
Kydex clips break. They can break through normal wear and tear as they're stretched going on and off a belt, and they can break if subjected to sudden torque. I've snapped the kydex clips on mag pouches and holsters personally, and many of my friends in law enforcement have had similar experiences. The kydex clips are cheap to produce and easy to use, but in a wrestling match they can come loose or snap in two. Many reports involve getting caught in a seatbelt, car door, or doorjamb. The holster or mag pouch is twisted upwards and due to the clip design it bends to the breaking point … SNAP. No more gun or magazines on your belt.
But The Looper doesn't rely on bendable clips. Instead, the entire holster — the body, the shirt guard, and the belt loop — is made from one continuous sheet of kydex. There are no breaks, no seams, no joints, no connectors. Your belt is likely to rip in half before you'd break this holster.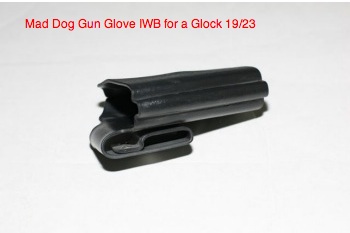 The design concept came from the original kydex inside the waistband holster, the Mad Dog Gun Glove IWB. No longer in production, the Mad Dog (also sometimes called MD Labs) Gun Glove line began the huge trend toward kydex holsters with a number of innovative designs. Their IWB holster was unquestionably the thinnest, fastest inside the waistband holster of its time. And it, too, was made from one continuous piece of kydex to guarantee strength and durability.
Over time, though, the now ubiquitous kydex belt clip became popular. They're even used on leather holsters sometimes. The clip is inexpensive to produce and makes getting the holster on and off the belt very fast and easy without the need to unbuckle your belt. But because there is no solid 360-degree belt loop, it's easy to bend the clip. Kydex wears every time it is bent or stretched that way, and sooner or later the clip can be broken with much less force than what's needed on a brand new holster. Unfortunately, there is usually no warning sign that your clip has become weak.
The Looper improves on the original Mad Dog design in a few ways. Most obviously, it adds a shirt guard to protect you, your shirt, and your gun. The holster also has twin retention screws, allowing the user to adjust how much retention/friction the holster imposes and providing broad compatibility for varying tolerances by gun makers. Rich at Custom Carry Concepts has refined the design even further, improving strength without the need for the rivets seen in my pictured prototype.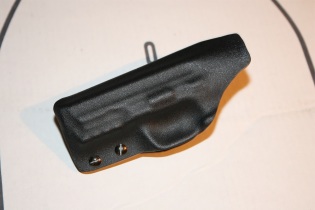 I've been wearing the prototype Looper for four months. It's comfortable and concealable enough for use all day, every day … even when driving long distances. Retention is excellent and can be adjusted by the user with a simple set of screws. Speed out of the holster during the draw is fantastic.
The Looper inside the waistband holster is available for the entire Smith & Wesson M&P family as well as some Glock, 1911, and Steyr models. Take a look. Obviously, we recommend them highly!