29-Oct-09 – 20:32 by ToddG
50,002 rounds
9 stoppages, 0 malfunctions, 3 parts breakages
Done! The magic number was reached while attending a Ken Hackathorn class in Marietta, OH. Ken even did the honors firing the 50,000th round: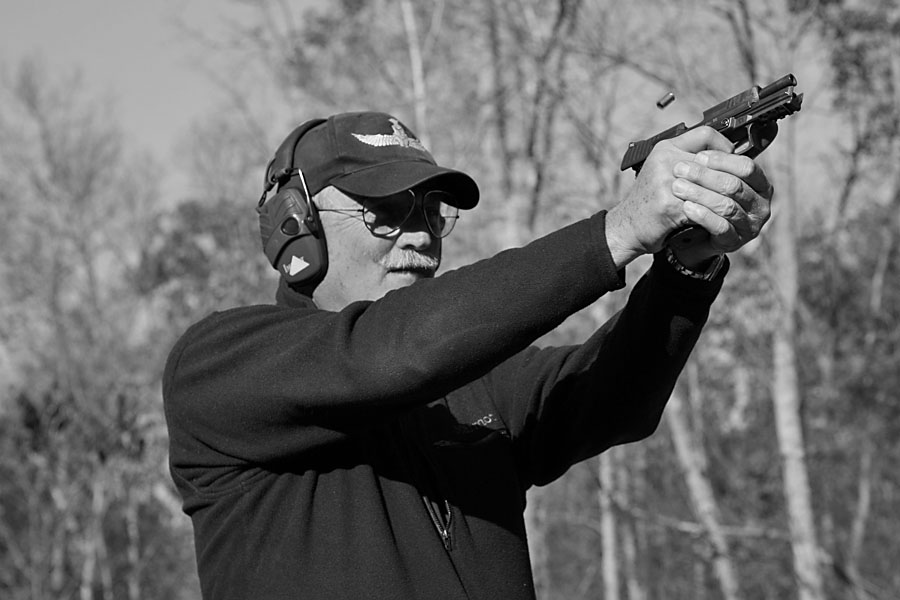 The other students in the class, as well as some of the local shooters, all pitched in to put an astounding 2,055 rounds through the gun in just two days. Without their help, the test would never have finished so early. The weekend was not without incident, sadly, and the gun had an extraction failure during a 500 round rapid fire shoot over the course of a 30 minute "break" in the class. More on that later…
The pistol has was sent back to Heckler & Koch's customer service center in Columbus, Georgia for an inspection. They made three determinations:
The firing pin spring was broken. Even though the spring was broken, the gun continued to fire properly. I had noticed that the gun seemed to be making shallower than normal indents on the primers, but it never failed to fire.
The extractor and the extractor groove were extremely dirty. Combined with a 50,000-round old extractor spring, this was causing the extractor to claw the cartridge rim with less strength than usual. Ergo, the extraction failure experienced during the class.
The pistol is otherwise in perfectly fine condition.
Which is very good news, because as soon as the pistol gets back here on Monday, we're going for 75,000 rounds before SHOT Show in January. Looks like I won't be going anywhere for the holidays except the range.
Heckler & Koch is replacing all of the springs in the gun, giving it a thorough cleaning, and sending it straight back to me. So expect to see another report next Thursday, including a post-50k accuracy test.
So, what do I think of the gun? I think it's fantastic… enough so that I begged HK to keep the test going, obviously. While I may not be able to pull splits quite as fast as I could with the M&P last year, the ergonomics of the pistol are second to none and allow anyone who picks it up to make good, fast hits with ease.
The ambidextrous paddle style magazine catch is a favorite of anyone who uses the gun for even a short while. It's just… so… easy!
Because I carry in an appendix holster, the presence of an external hammer is a huge plus. Every time I holster the gun, my strong side thumb rides across the hammer and guarantees that I don't inadvertently put a whole in my leg (or worse).
While the P30 definitely requires more skill and time to detail disassemble, the ridiculously long maintenance cycle — just once every 25,000 rounds! — makes that nearly meaningless. No other handgun manufacturer comes close to that. For 99% of the gun buyers in America, twenty-five thousand rounds is more than a lifetime. The P30, in essence, has zero cost of ownership once you've paid to take it home from the gun shop. Even the recoil spring goes 25,000 rounds!
The gun was definitely more reliable than the numbers reported at the top of each week's post would suggest. The first seven stoppages were all caused by a bad hammer spring. Once that was fixed, the gun chugged along almost without fail for more than 40,000 rounds. Pretty good, especially for a pistol that was only cleaned every 5,000 rounds or so!
For those who like to see everything in digits and data…
Rounds fired:
Atlanta Arms & Ammo 115gr TMJ: 2,419
American Eagle 115gr FMJ: 39,673
American Eagle 124gr FMJ: 155
American Eagle 124gr TMJ Indoor: 1,951
CCI Blazer 115gr TMJ: 2,422
Federal 124gr Hydra-Shok: 250
Federal 124gr +p HST: 729
M882: 489
Pro Load 124gr +p FMJ: 200
Remington 115gr +p+ JHP: 498
Remington 124gr FMJ: 50
Speer 124gr +p Gold Dot: 384
Winchester White Box 115gr FMJ: 373
Winchester 124gr NATO FMJ: 409
Total days for the test: 178
Average rounds per day: 281
Total range trips: 85
Average rounds per trip:  588
Total hours at the range: 338.75
Average rounds per hour:  148
Number of times the gun was cleaned: 10
Number of parts replaced due to breakage: 3
(this includes the firing pin spring, even though it wasn't discovered until after 50k)
Number of parts replaced due to scheduled maintenance: 5
Total number of stoppages: 9
(seven stoppages were attributed to an out-of-spec mainspring that was replaced within the first 10,000 rounds of the test; one was attributed to excessive debris in the extractor and extractor channel; one was an unidentified failure to eject)
Number of States the pistol was fired in: 11
Georgia, Louisiana, Maryland, Montana, New Mexico, New York, North Carolina, Ohio, Pennsylvania, Virginia, Wisconsin
Thanks again to Wayne Weber, Angela Harrell, Bob Schultz, Sam Bass, and Travis Teague of Heckler & Koch for their support and hard work on this project. Thanks also to:
Heinie Specialty Products for the sights
Rich at Custom Carry Concepts for supplying Looper holsters and BMC mag pouches for the test
the awesome folks at Atlanta Arms & Ammo who helped us with our ammunition supply during the "drought" earlier this year
all the great people at the NRA Range in Fairfax, Virginia for their patience and assistance over the past six months of the test
and the wishes-to-remain-anonymous reader who generously loaned pistol-training.com six of his P30 magazines while we waited for HK to receive their much anticipated shipment a while back 8)
See you again next Thursday!
Train hard & stay safe! ToddG
Previous P30 Endurance Test posts at pistol-training.com: