5-Nov-09 – 21:42 by ToddG
53,482 rounds
9 stoppages, 0 malfunctions, 3 parts breakages
The P30 is back. Heckler & Koch replaced all the springs in the gun and magazines, and also replaced the magazine followers. With the help of some fellow M4Carbine.net Northern Virginia Training Group members almost 3,500 rounds have been fired through the gun in the past few days.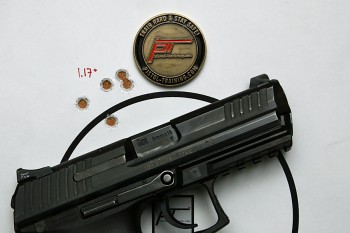 As promised, the first thing done with the P30 on return from HK was an accuracy test. The results were nothing short of astounding. Five 5-shot groups of Speer 124gr +p Gold Dot (from the same lot number used to test the gun when it was new) were fired by hand using a bench rest. The groups averaged 1.53″! The best group of the five measured just 1.17 inches, as pictured at right.
When the gun was new, an identical test resulted in a 1.92″ average. Did the pistol get more accurate? No. The gun has a lighter Variant 4 trigger setup now, the benefit of fifty thousand rounds of smoothing out the action, and superior Heinie sights compared to the mediocre stock factory sights.
But the fact that after 50,000 rounds this gun is shooting inch-and-a-half groups is incredibly impressive. In an era when so many people blow off handgun mechanical accuracy as unimportant, when people are satisfied with guns that shoot 4″ groups at twenty-five yards, the P30 clearly isn't making any compromises in the accuracy department.
Next week, I'll be meeting with HK to talk about the first six months of the test and where we'll go from here. They'll also be getting one thousand empty ammo boxes — making much-needed room in my office! — for display at next January's SHOT Show.
Train hard & stay safe! ToddG
Previous P30 Endurance Test posts at pistol-training.com: