27-Nov-09 – 00:52 by ToddG
61,246 rounds
9 stoppages, 0 malfunctions, 3 parts breakages
Happy Thanksgiving! Exactly 2,500 rounds went through the P30 this week.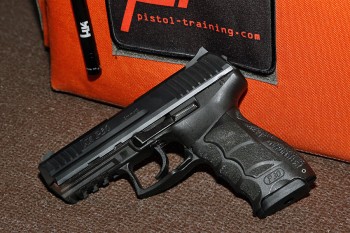 Recently, I was talking to firearms instructor David Blinder of Personal Defense Training about ways to help students achieve an optimal grip during the drawstroke. Around that same time, I had the opportunity to discuss the same issue with Ken Hackathorn. The result — combined with some photographs of my shooting grip that didn't quite look right to me — was that I decided to start over from square one with my grip. This week, I finally had time to do exactly that.
The trick with the P30 is the slide release lever. It's big enough to have its own zip code. Getting a grip that (a) locks my support wrist forward, (b) puts my support hand high on the gun, and (c) allows the slide to lock back properly requires some adjustment.
What is working for me: rather than trying to lock my support hand wrist before it comes to the gun, I bring my support hand index finger into position and then pivot my hand forward from that point. I then further bend my thumb down so that it is essentially resting at the bottom edge of the dustcover.
Essentially, I'm taking Ken Hackathorn's tip about rotating the hand around the index finger and combining it with a variation of the grip that Scott Warren uses. I had actually been shooting the Warren grip earlier on during the test, but I guess over time I got lazy and it morphed into something less optimal.
The result, when I get it exactly right, is much better control over the gun. I was literally hitting a 3×5 card at seven yards as fast as I could pull the trigger without even trying to aim the followup shots. The gun simply isn't moving off course enough to miss, even when hammering away. Of course, my draws and reloads have slowed down because I'm spending time consciously getting my grip right, but that should sort itself out in a matter of weeks. It's the same "take one step backwards to take two steps forwards" approach that I constantly push on students. Is it an ego hit? Yeah. But long-term improvement is worth short-term embarrassment.
The other thing that helped guarantee the slidelock was changing to the Small (rather than Medium) backstrap on the pistol. That gets my strong hand a little farther forward, in turn pushing my support hand a little farther forward. It the palm of my support hand, not my strong hand thumb, that rides the lever and prevents slidelock. So getting my support hand palm in a better position makes all the difference in the world.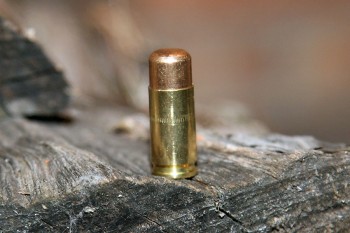 The gun also had some challenges this week related to ammunition. While the American Eagle 124gr TMJ is incredibly soft shooting (as reported previously), its performance in the reliability department leaves us wanting. This week, two rounds had such hard primers that they required three or four hammer strikes to fire. Leadfree primers are notoriously harder and also sensitive to cold temperatures. And then there was this interesting invention pictured at right, which appeared to be a deformed jacket that — based on weight — has no lead core inside.
And thanks to Editor Tom, this week the mystery asking how many pieces of 9mm brass fit in a 5-gallon bucket was answered: 8,000. So that means I need sixteen thousand pieces for HK before the SHOT Show. Now, I'm no mathematician, but since there are less than 14,000 rounds left to fire before we hit the magic 75,000 point, I'm pretty sure that's not going to happen.They may have to settle for a couple gallons less.
Train hard & stay safe! ToddG
Previous P30 Endurance Test posts at pistol-training.com: