6-Dec-09 – 11:48 by ToddG
I get asked about XS pistol sights all the time, and keep meaning to write something in-depth about them. But the issue came up at HKPRO again today and my quick response there seemed like a reasonable start:
I would not recommend the XS sights. Some people have a religious fervor about them which borders on the frightening, but in general here's the thing to keep in mind:
No top-ranked competitive shooter uses them.
No military unit in the U.S. uses them.
No major LE agency in the U.S. uses them.
No major SWAT team in the U.S. uses them.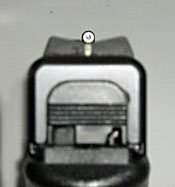 If they're really so great and fast and "instinctive," why are none of those groups using them?
In fairness, I'll admit that I've had two students in classes this year who were pretty good with the XS sights on their gun (both managed to score an Advanced rating on the F.A.S.T.). But I've watched far more struggle with the XS system in the same time period…
The main issue is that the rear sight simply does not provide the kind of visual feedback necessary to get acceptable hits under the wide range of circumstances that matter in a practical setting. Their claim to fame is that they're fast on wide open close targets… but even point shooting is fast on wide open close targets! Everything is. As soon as you start to require tougher shots, the XS sights slow you down more than traditional notch and post sights will.
Train hard & stay safe! ToddG