10-Dec-09 – 21:03 by ToddG
68,996 rounds
10 stoppages, 0 malfunctions, 3 parts breakages
Yesterday while shooting, I had a stoppage with my P30 test gun. Upon inspection, it appeared that the slide had failed to cycle properly, preventing the spent cartridge from fully extracting and ejecting. Since it had been about 9,000 rounds since the last time I cleaned it, it seemed like an appropriate time to disassemble and inspect the gun.
The first thing I noticed was a substantial wear mark on the underside of the slide being caused by the disconnector. The obvious conclusion was that the mixture of TW-25B grease and Militec-1 oil, combined with nine thousand rounds worth of gunpowder and primer debris, was causing the disconnector to stick, dragging on the slide, and inducing the stoppage.
But as I was putting the gun back together, I discovered this: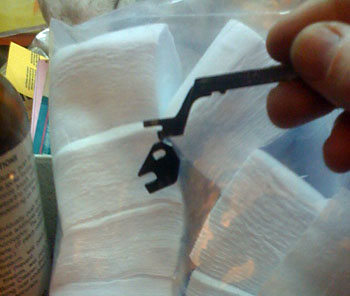 Yes, boys and girls, that is the trigger bar and the disconnector, being held together by the amazing power of magnetism. My whole pistol somehow got magnetized. It's minor, but I'm sure that the combination of dirtiness and magnetic attraction was enough to cause the hiccup.
Now I just need to find a safe way to demagnetize the thing…
Train hard & stay safe! ToddG
Previous P30 Endurance Test posts at pistol-training.com: