22-Apr-08 – 22:18 by ToddG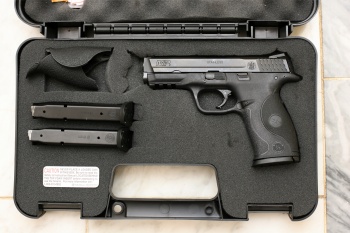 Today began a serious test of a brand new M&P9 thanks to the folks at Smith & Wesson.  They sent us this pistol for long term evaluation.  Our plan is to put 50,000 (fifty thousand) rounds through the gun in the next six months.  And we'll detail every step in the process right here at pistol-training.com.
Serial number is MFPxxxx.  The pistol has standard factory Trijicon night sights and a magazine disconnect safety.  The trigger is the MA-compliant 10# version with an excellent trigger job, bringing the actual trigger pull weight down to about six pounds.  The grips have been switched to Crimson Trace Lasergrips.
A short trip to the range today began the test.  Only 265 rounds, but everything ran perfectly right out of the box.
Check back regularly for updates on the M&P Torture Test!
Train hard & stay safe!  ToddG