16-Jan-10 – 19:54 by ToddG
While every red-blooded American male has an innate understanding of masterful firearms operation, once in a very rare while you may find yourself face to face with someone who was not born an expert marksmen. Hard to believe, I know. But it can happen.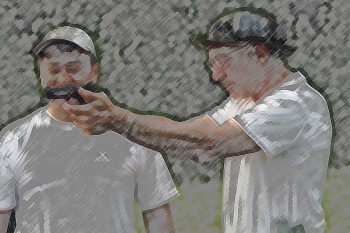 Whether you're teaching a formal class or just bringing a buddy to the range for his first time, there are some basic building blocks that are useful for any new shooter.
First, obviously, is safety. The important thing to remember here is that many people don't believe guns are dangerous. Sure they know a gun can kill, but all they ever see on television is people purposely shooting one another. The truth is that with less effort than most people use to turn the ignition in their car, a gun can be fired. And once the gun goes off, there is no reset button. Instilling a serious respect for the deadly nature of firearms needs to be the instructor's principle priority.
Next, make sure the student understands how to operate the gun. Far too often I see CCW instructors or "Basic Pistol" instructors go into great length about stance, breath control, trigger control… and then when the student is ready to fire the first shot, everyone realizes he doesn't know how to load the gun. The student should be able to load & clear the pistol and operate all of the gun's controls before firing the first shot.
Another good step before touching off the inaugural noisemaker is some dry fire. It doesn't have to be excessive. You don't want to bore the student, because bored students don't listen and they tend to make mistakes. A half dozen dry trigger pulls, however, gives you an opportunity to examine a shooter's form (grip, trigger press, stance, etc.) before the noise and the stress of "did I hit?" comes to play.
When the big moment comes and the student is going to make the gun go bang for the first time, load a single round in the gun. I cannot stress the importance of this enough. Many people have weird reactions to firing a gun for the first time, and that weird reaction can often involve swinging the gun in an unsafe direction out of surprise, fear, or an innocent "Hey didja see that!" moment of absentmindedness. It's harder to make a mistake with an empty gun, so by giving the newbie just one round to start with, you guarantee he's got an empty gun in his hand when the excitement floods his system.
Finally, use your head and keep the lessons simple. A sheet of paper at 15 feet makes a perfectly good target for a first time shooter. Eliminate scoring zones, so don't use a bullseye target. Take performance anxiety out of the equation. Hits are hits. Refinement of skill — and accuracy — comes later. For now, let the shooter get comfortable just controlling the gun before, during, and after the big loud noise.
Remember that a new shooter is approaching the range session with a completely different perspective than yours. Keep things safe and simple, and you'll both be ahead of the game.
Train hard & stay safe! ToddG