28-Jan-10 – 23:44 by ToddG
77,003 rounds
10 stoppages, 0 malfunctions, 4 parts breakages
That's right. We're back! The endurance test gun has returned from the SHOT Show and is ready to get back to work. And with just a couple of days at the range this week, the pistol shot over 2,000 rounds before I broke down and decided to clean it in anticipation of this weekend's Aim Fast, Hit Fast class at Rangemaster in Memphis.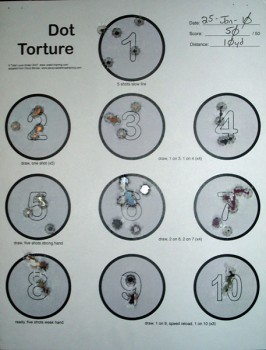 Other than tuning up for the class, the other focus for my shooting the past two days has been getting reacquainted with that whole "front sight, trigger press" concept that I neglected since hitting the 75,000 mark more than a month ago.
The results weren't too shabby if I say so myself. For the first time ever, I managed to turn in a perfect score on the Dot Torture drill at ten yards. You can gaze upon the actual target to the right.
Ironically, the worst shot of the whole test was during the deliberate no-stress slow fire segment on dot #1.
Only 22,997 rounds to go in the test before we hit the big 100,000. Funny to think that almost twenty-three thousand rounds of shooting sounds like a minor endeavor at this point.
But don't think the P30 is going to be resting on its proverbial laurels. In addition to regular practice sessions and teaching, the pistol and I are going to be attending Paul Howe's Tactical Pistol Instructor course in Nacogdoches, Texas in February… the third formal class the P30 will be put through in less than a year. Howe's program has a tough set of standards that must be met to earn an instructor certification. We're confident the P30 is up to the challenge.
But first we've got to make it back from Memphis…
Train hard & stay safe! ToddG
Previous P30 Endurance Test posts at pistol-training.com: