12-Apr-10 – 16:05 by ToddG
It never ceases to amaze me how many shooters will spend beaucoup money on tactical super-retention thigh holsters and war belts and plate carriers and dump pouches and so forth… when they work in an office building and never put any of that stuff on outside of a training venue. But these same people never take the time to learn and practice with their everyday CCW gear.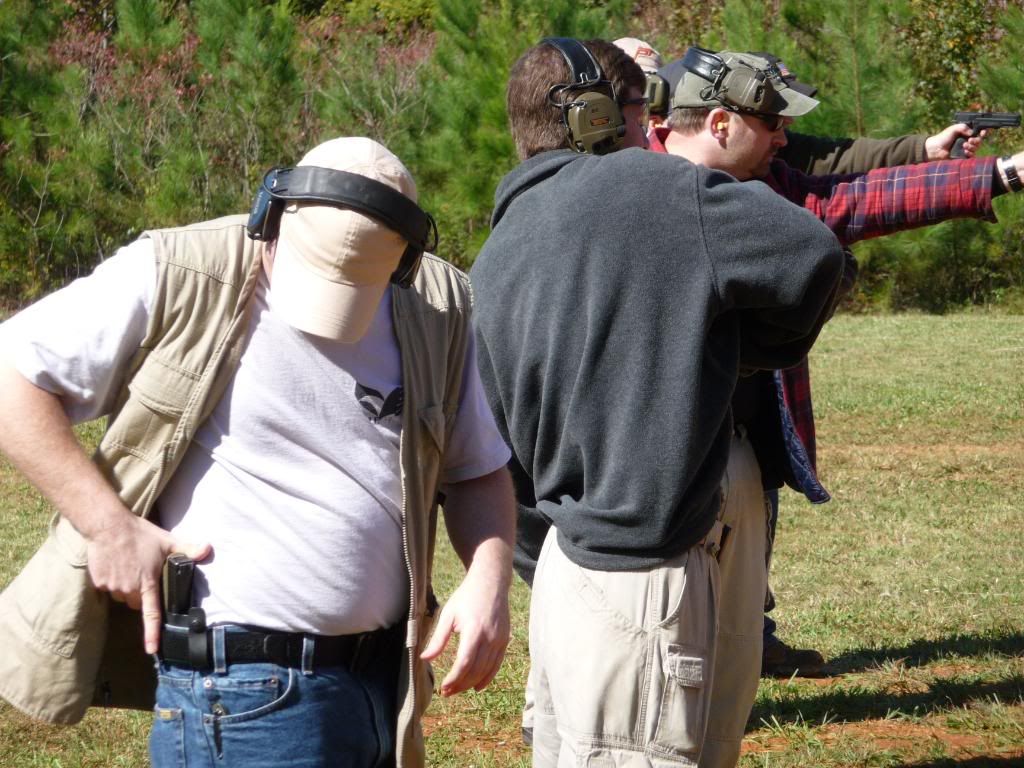 My good friend Dave teaches a class he calls Concealed & Off-Duty Pistol once or twice a year in South Hill, VA. The class covers — now get this! — how to carry a handgun concealed. Yes, crazy concept. Obviously, it only appeals to those who are more concerned with their everyday preparedness than with learning what to do when the Alien Communist Zombie United Nations "Red Dawn" scenario comes true.
Knowing Dave's background and experience, I signed up for his very first C&OD class in 2008. Most of my fellow students had literally hundreds of hours of prior firearms training, yet most of them had never used a concealed carry holster in a class! Whether it was the drone from Sector 7-G or the IT guru or the carpenter, these were guys who carried concealed pistols every single day but had never taken the time to learn about carrying a concealed pistol every day.
The class covers a tremendous amount of material in just two days. First, Dave — who is a widely recognized expert on holsters and related gear for military, LE duty, and concealed carry — educates students about the true benefits and problems of various CCW options. Whether it's leather vs. kydex or appendix vs. behind the hip or the good & bad of the shoot-me-first vest, Dave shares his tremendous experience to help each student find the best option(s) for himself.
But the class isn't just about walking around without your pistol printing. Over the course of two days we fired around 1,000 rounds each. Dave covers a wide gamut of skills. Obviously, drawing and reloading while wearing various types of cover garments gets a lot of attention. But C&OD goes beyond the typical class with in depth practice of using these skills strong (SHO) & weak hand only (WHO)… and how different holster and concealment clothing options affect your ability to perform these skills under stress. Malfunction clearances — again including both SHO and WHO — were covered extensively. Stress is placed on both shooting on the move and using cover, including use of cover from unconventional positions.
Not only would I recommend this class to others, but I'd sign up to take it again myself. Dave balances professionalism and competence with an approachable demeanor that makes class both educational and enjoyable. Students were constantly challenged to improve, and I believe everyone in class did exactly that.
Dave happens to be holding another C&OD class next month in Virginia. So if you've been letting your practical skills decline while spending all your time learning how to single handedly slay a regiment of vampire Al Qaeda crab people with the carbine you normally keep locked in a safe in your basement, maybe it's time you signed up.
Train hard & stay safe! ToddG
(photos courtesy of Tim Orrock)