4-May-10 – 18:03 by ToddG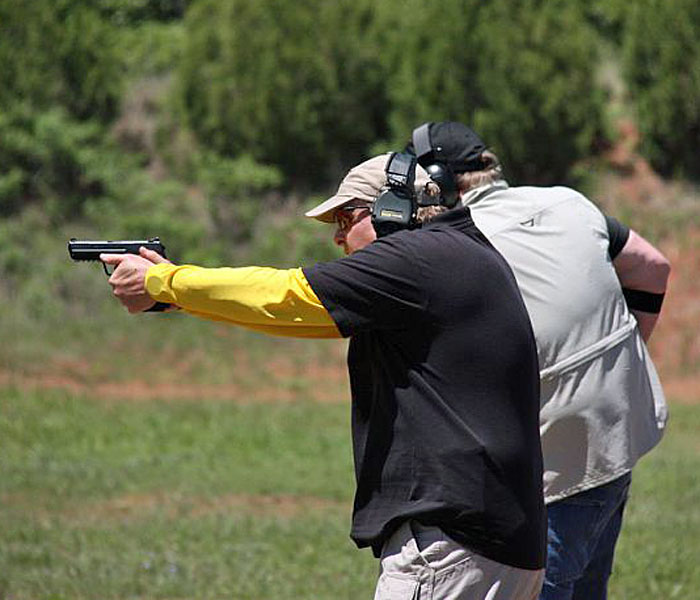 4,418 rounds

0

stoppages

0

malfunctions

0

parts breakages
The HK45 traveled through Oklahoma, Kansas, and Missouri this past week during a whirlwind trip that ended with a great Aim Fast, Hit Fast class at the incredible Oklahoma City Gun Club.
All week long, the pistol traveled in the Garrity AIWB holster I mentioned last week. Driving from Tulsa to Kansas City and then down to Oklahoma City over the course of two days, the gun remained comfortable enough even after five to six hours straight in a rental car. I won't say it was like not wearing a gun… let's face it, the HK45 isn't a microcompact. While it was noticeable, though, it was not uncomfortable. I never needed to take it off or reposition it during the drive.
On Friday, a few of the AFHF students — including S.W.A.T Magazine writer Ed Lawrence — and I got in some extra practice before class. Everyone gave the HK45 a few magazines of familiarity fire with excellent results. The pistol continues to show that 9mm Glock and M&P shooters can pick it up and shoot it very well without any trouble (except for the occasional failure to lock back due to riding the slide release).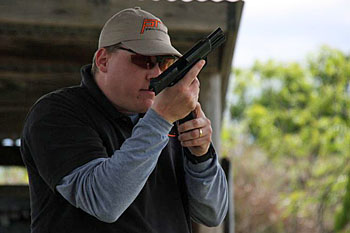 In addition to a couple of good FAST runs, the gun also turned in an impressive performance during a one-handed walkback drill, hitting a 3×5 card at more than twenty yards both strong- and weak-hand only on the first try. A little dry fire practice each night at the hotel during my 10-day journey has also helped improve my reloads finally.
With no travel planned over the next two weeks and tens of thousands of freshly made 230gr Blazers on hand, the round count on the HK45 should really take a big jump. Check back next week to see the results and catch up on the test.
Train hard & stay safe! ToddG
(photos courtesy of Mandi)
Previous HK45 Endurance Test posts at pistol-training.com: