14-May-10 – 12:00 by ToddG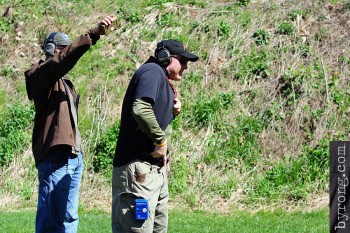 As any regular reader of pistol-training.com knows, I'm a big fan of AIWB (Appendix Inside the Waistband) carry. I've helped develop a number of AIWB holsters. Every Aim Fast, Hit Fast class has been taught using an AIWB holster.
But AIWB is not for everyone. From what I'm seeing at ranges around the country, this mode of carry is slowly becoming the cool, chic, look-at-me-I'm-different flavor of the month. And to be honest, that is not necessarily a good thing. Because — and it's frightening that some folks haven't thought this through — if you make a mistake while drawing or holstering from AIWB it will be a serious accident. If you're lucky, you'll only shoot yourself in the genitalia. If you're not so lucky, you'll put a bullet in your femoral artery and bleed out before anyone can save you.
Think of all the stories you've read online in which someone shot himself in the foot, leg, thigh, or buttock while drawing or holstering. Now imagine if those stories all involved someone getting a self-induced lightning fast ballistic vasectomy, instead.
Does this mean pistol-training.com has suddenly gone anti-AIWB? Not at all. But if you're going to carry this way, there are some things you need to consider:
That whole keep your finger off the trigger until your sights are on the target thing is really, really important. Learn it, love it, live it.
Be careful, methodical, and slow when putting your pistol back in the holster. Folks who try to reholster as fast as they draw are far more likely to have an accident than those who don't. A great concept to have in your head: be reluctant to put your gun back in the holster. Every time I see someone racing back to the holster with an AIWB, I cringe.
It's not a sin to look at what you're doing as you try to holster your gun. It may not be ideal, but it beats having an accidental discharge down the front of your pants.
Use a holster specifically designed for AIWB and built by someone who understands the specific needs (and dangers) of AIWB carry.
As soon as the muzzle is in the holster, twist your wrist so that the butt of the gun is turned in towards your body. This will usually help angle the barrel away from your body at least a little bit.
Guns with manual safeties and/or exposed hammers are safer. Pout all you want, but physically blocking the gun from discharging as you holster it is a huge safety benefit.
While it's important for any carry method, make sure there are no hanging tabs, zippers, or ties on your concealment garment that could snake their way into your trigger guard as you draw or holster.
As you're drawing or holstering the gun, if something feels wrong or you feel unusual resistance, stop! Look. Verify you have a safe and clear path.
Finally, before committing to the AIWB lifestyle, do yourself a favor and try it with an empty gun for a week while you're hanging around the house. Do an hour or two of dry fire drawing and holstering the gun in different positions, in various lighting conditions, and with different concealment garments. I drew and reholstered my pistol eleventy-billion times dry fire before loading it up and carrying it this way.
If you follow all of this advice and still blow your testicles off or put a round through a major artery, sucks to be you. You were warned.
Train hard & stay safe! ToddG