22-May-10 – 15:52 by ToddG

pistol-training.com is extremely excited to announce a collaboration with SKD Tactical on a limited edition of their new 0360.SKD tactical folder from Zero Tolerance.
From SKD Tactical (skdtac.com):
SKD: "So Todd, you like the new knife?"
Todd: "Dude, this is pretty bad ass!"
SKD: "You know we can put your logo on it and make you a limited run…"
Todd: "Duuuuuuuuuuuuude, sounds like a plan!  Can I donate some of the proceeds to charity?"
SKD: "Dude, that sound's great- we'll chip in too!"
Todd: "Duuuuuuuuuuuuude!"
SKD: "Duuuuuuuuuuuuude!"
Todd: "Oh wait, what about…. nevermind- Duuuuuuuuuuuuuude!"

And so began the Pistol-Training.com Limited Edition Knife project!  Unlike other collaborations based on the ZT 0360.SKD knife, the Pistol-Training.com version is a tip of the hat to one of the most professional firearms instructors available today, Todd Green, who is also a cancer survivor.  10% of all sales from this knife ($15.50) will go to Todd's charity of choice, LIVESTRONG®!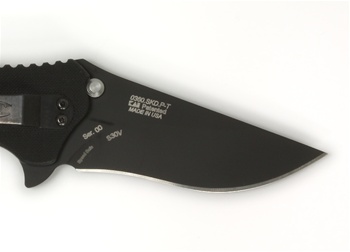 The knives are individually serialized from 00 to 99. The first ten (zero through nine) are reserved for F.A.S.T. Challenge Coin winners. One of my personal knives, #00, is pictured at right.
Numbers 10 through 99, however, are available directly from SKD. Even better, 10% of the price of each knife will be donated to LIVESTRONG and help millions of Americans in the fight against cancer. With your help, we can raise over $1,500!
Even if you don't want one (maybe you hate people with cancer or something), it's worth visiting SKD's site just to read the description of the project. The guys at SKD have… well… we'll call it an interesting sense of humor.
0360.SKD.P-T Specifications:
Steel: S30V stainless-steel with Tungsten DLC coating
Handle: Textured black G-10
Blade Length: 3-1/4 in. (8.25 cm)
Closed Length: 4-5/8 in. (11.75 cm)
Overall Length: 7-7/8 in. (20.002 cm)
Weight: 5.6 oz.
Features:
• SpeedSafe
• Locking Liner
• Carbide Tip
• Quad Mounting System
• Laser Engraved pistol-training.com logo and serial number
(and because I know you'll ask: no, you cannot request a specific serial number…)
Train hard & stay safe! ToddG