26-May-10 – 16:59 by ToddG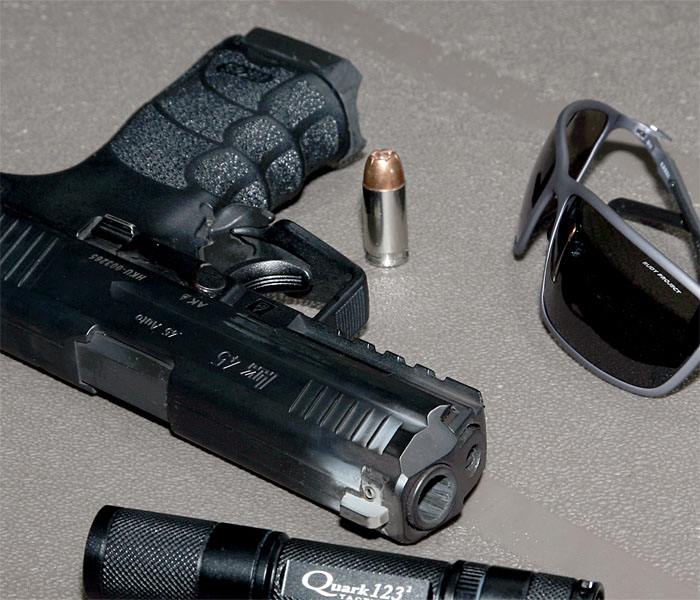 12,535 rounds

0

stoppages

0

malfunctions

0

parts breakages
At 12,500 rounds we hit the quarter-way mark on the HK45 Endurance Test last Friday during a 1,006-round marathon practice session. Unfortunately, circumstances have conspired to keep the gun in the holster and off the range ever since. Still, there have been zero problems with the pistol since removing the USP45 Compact floorplates (see last week's report for details).
Once we hit the 12,500 mark, it was time to pull some preventative maintenance. Parts replaced include:
trigger return spring
sear spring
firing pin spring
firing pin block spring
elbow spring (aka "hammer rebound spring")
recoil spring assembly
The first two got changed based on experience from the P30 test, while the rest were just parts HK said I should replace "at or before 20,000 rounds." Since ease of detail disassembly and reassembly remains a major omission from the USP/P2000 design, I'm hoping to keep the detail stripping to a minimum during the test. Heck, it only took me eight tries to get the trigger return spring in the gun this time. I'm becoming an expert!
As for the shooting this past week, best F.A.S.T. run was 4.77 with a pretty bad reload:
4.77 (clean): 1.45, .49 / 2.07 / .28, .24, .24
Doing a ton of 1-R-2 and 1-R-4 drills this past week I pulled off some reloads in the 1.5-1.6 range (from concealment), but getting it all to come together during a F.A.S.T. eluded me. In fact, compared to last week's nine clean sub-5 F.A.S.T. runs in a row, this week's performance was abysmal.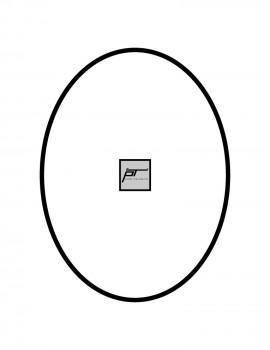 Another drill I ran a number of times during the thousand round practice day was a simple draw & fire five shots on a 6″ wide, 8″ high oval (see target at right; click on image for full size .pdf version) at 7yd. Best time for five hits from concealment was 2.04. That was a 1.28 draw and splits of .20, .19, .19, and .18. This is really a drill that should be accomplished in under two seconds.
On a lark I shot a 5-round group at 50yd with my carry ammo (Winchester RA45T) from an unsupported standing position. Result was slightly less than 4 inches center to center (and all within the 6×8 oval). That's pretty impressive for a duty pistol, especially one that hadn't been cleaned in about 3,000 rounds.
Train hard & stay safe! ToddG
Previous HK45 Endurance Test posts at pistol-training.com: