8-Jun-10 – 16:33 by ToddG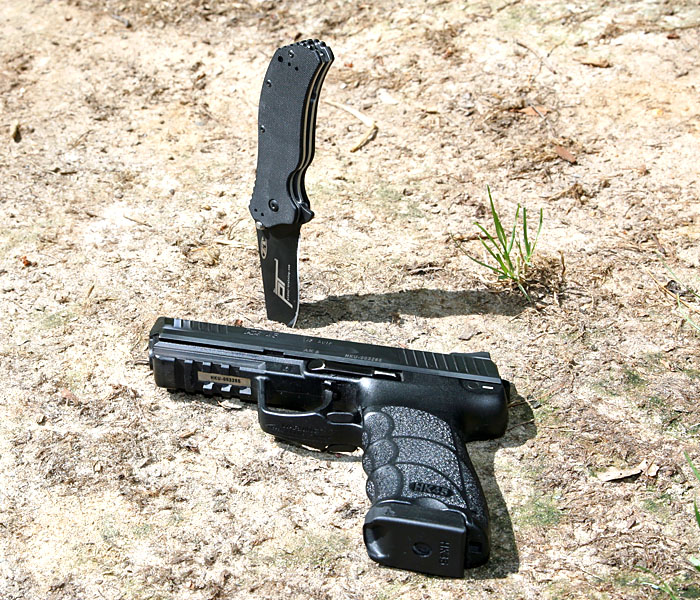 16,208 rounds

0

stoppages

0

malfunctions

0

parts breakages
Another week, and 15,000 is well behind us now. The pistol continues to run flawlessly despite the continued abuse of high volume shooting sessions and over 7,000 rounds since the last time it was properly cleaned.
Our "guest tester" this week was JimD of FirearmsTrainingAndTactics.com. FT&T is a great new online forum devoted to the training and technique side of shooting as opposed to the typical "Glock vs. 1911" hardware stuff. Check it out when you have a chance.
Jim was generous enough to drive three hours each way to help run the HK45 through its paces. He started by putting ten rounds into a 1″ square target at seven yards! The marketing department at HK would tell you it was the inherent accuracy of the pistol and incredibly easy to shoot LEM trigger. Jim might rightfully argue there was some skill involved, too, though.
Jim also brought some good luck to share. During our practice session, I turned in a best-yet F.A.S.T. score of 4.41 with the HK45:
4.41 (clean): 1.53, .39 / 1.79 / .24, .24, .22
Naturally, this was all the motivation I needed to push even harder, resulting in a total of three 3×5 misses out of my next two runs. Apparently, I used up all that luck in the first six shots.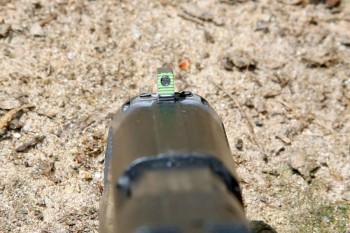 One minor change was made to the front sight this week. Usually, I paint the front sight orange, along the same lines as the JohnO DIY High Visibility Front Sight modification. But based on some comments from Claude Werner, former head instructor at Rogers Shooting School, for the past week the HK45 has been wearing green. At first blush, I don't find myself as visually drawn in by the green as the orange. But I'm going to run the gun this way for a while to give it a fair chance.
I've also received the prototype Warren Tactical rear sight for the HK45/P30, but until I get the proper height front night sight, it's going to have to sit on my workbench.
Next Tuesday's report should be an interesting one, because this weekend the HK45 will get put through a variety of standards and qualification drills during the Judgment Day class in Culpeper, VA. So check back next week to read all the results.
Train hard & stay safe! ToddG
Previous HK45 Endurance Test posts at pistol-training.com: