14-Jun-10 – 22:52 by ToddG
16,414 rounds

0

stoppages

0

malfunctions

0

parts breakages
Just over 200 rounds this week, but an interesting 200. They were all fired during Saturday's Judgment Day class, which was all about shooting standards.
One thing I definitely learned: the green paint on the front sight isn't working for me. Especially at range with cardboard targets against a dirt backstop, the sight just washed out and it was all but impossible to find the top edge. For example, on the Hackathorn Standards I scored a 262… far worse than previous runs. I had a 290 going into the last two strings, which have very generous times and usually result in no points down for me. Instead, I dropped a ridiculous 28 points between the two.
The same problem plagued me on Triple Six, where I spent an unacceptable 5.26 seconds at the 25yd line and still dropped three points, for a final score of 12.68.
At closer ranges things weren't as bad. We ran Catch-22 where I turned in a 33.78. I was close to turning in a 30-second run until the very last WHO draw, when I was thinking too much about turning in a 30-second run and not thinking enough about the last WHO draw!
Finally, here's video of a 7.31 El Presidente. Click the image to see it on YouTube.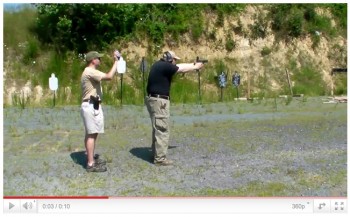 While I'm happy with the run overall, you can see in the video that I pause on the first shot and on the shot after the reload. My press out suffered because it was hard to get on the sight precisely.
So, goes without saying… the green paint is off and the orange is back. I'll try to run the Hackathorn again next month.
Next week, the update will be coming from Abbotsford, British Columbia where I'll be teaching two classes. Thanks to its long barrel length and 10rd magazines, the HK45 is completely legal in Canada… they call it the HK11.43, though. Joking…
Train hard & stay safe! ToddG
Previous HK45 Endurance Test posts at pistol-training.com: