1-Jul-10 – 11:47 by ToddG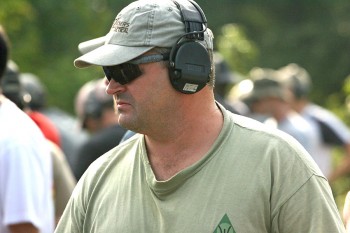 Few people in the firearms industry can claim the kind of background that Larry Vickers has.
No, scratch that. Absolutely no one in the industry can claim the kind of background Larry Vickers has. Larry is:
a highly respected retired member of the U.S.'s most elite military counterterrorism unit, 1st Special Forces Operational Detachment-Delta (aka, "Delta Force").
a member of the American Pistolsmiths Guild, and was named the Most Sought After 1911 Pistolsmith by American Handgunner magazine.
the 2003 Carlos Hathcock award recipient (given in recognition of tremendous contribution to the end user community in the fields of small arms weapon training and development)
an experienced and successful competition shooter who helped create IDPA.
long-time consultant to industry giants such as Heckler & Koch (Larry was the principle force behind the development of the HK45 and HK416) and Daniel Defense.
one of the most popular and effective small arms trainers in the world.
Larry is one of those incredibly rare instructors who can be talking about the latest cutting-edge tactical technique or gadget one minute, and then explaining the difference between a P08 Luger built in 1909 and one built in 1910 the next. He's quite literally a walking encyclopedia entitled "GUN."
Recently, Larry added a FAQ section to his website that answers some of the questions he gets when teaching. From "Is the 1911 right for me?" to "What is your ideal carbine?" there is a wealth of information here. The FAQ — and Larry's classes — are definitely worth checking out.
Train hard & stay safe! ToddG