5-Oct-10 – 23:06 by ToddG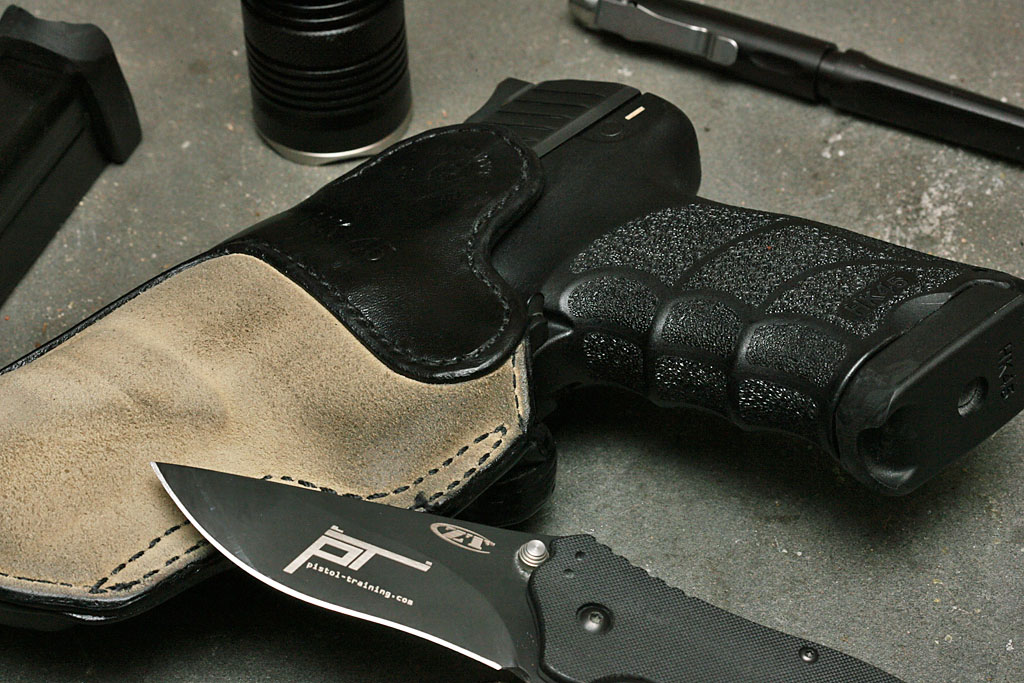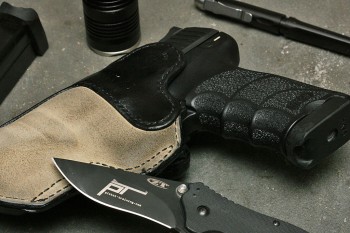 36,263 rounds

0

stoppages

1

(*) malfunctions

1

parts breakages
An uneventful week of teaching and practice, the HK45 is driving on with no drama. Unless you could the drama of shooting and carrying the HK45 for half a year straight. Time flies…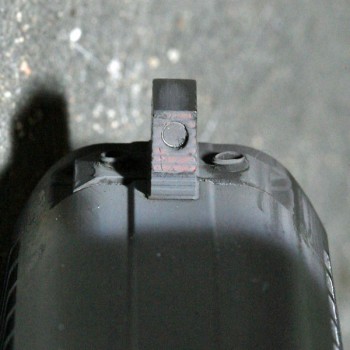 One issue I've been dealing with since day one but never think to mention: .45 ammo is brutal on front sights. The picture to the right is what the front sight looks like after just 1,000 rounds. Not only does the orange paint (see JohnO DIY High Visibility Front Sight) get completely covered, but the night sight lens too. After each session, I take a toothpick and scratch the tritium capsule's window clear. If that is not done, the tritium dot on my Heinie Straight Eight rear sight glows nice and bright while the front sight is somewhere between "subdued" and "invisible." This issue isn't unique to the HK45, of course.
As part of the quest to master 3×5 cards, this week's results:
2 on 3×5 card at 7yd in 1.8 seconds: 81.5%
5 on 3×5 card at 7yd in 2.5 seconds: 71%
That's another week of incremental gains. However, my cold F.A.S.T. time when teaching this weekend was a 5.08 (clean), which remains essentially unchanged. Translating practice speed into performance speed will take more time.
No teaching this weekend means more time to practice, so look for a nice solid jump in round count by next week's update. See you then.
Train hard & stay safe! ToddG
Previous HK45 Endurance Test posts at pistol-training.com: