14-Dec-10 – 15:42 by ToddG
49,990 rounds

1

stoppages

1

(*) malfunctions

1

parts breakages
That's right, folks. Just ten rounds to go! Basically, it's all over but the cryin' (and the photography set up for the 50,000th round).
This last week with the HK45 has actually been a lot of fun. I spent a full day at the range with some buddies putting 1,000 rounds through the gun in near-freezing weather. The gun hadn't been cleaned or even lubed in quite a while but ran like a champ… as I've come to expect.
Yesterday I shot my last HK45 F.A.S.T. drill:
4.62 (clean): 1.58, .56 / 1.89 / .21, .19, .19
I'm satisfied going out on that note.
Yesterday was also my chance to get in the long-awaited accuracy testing of the gun now that it is (essentially) at the end of the test. Ammo used was all match grade ASYM Precision. Results, even through the dirty HK45, were spectacular.
The 230gr FMJ Match averaged 1.95″ 5-shot groups from a sandbag at 25yd. The best group of five, however, was this amazing 1.26″. If you only see four bullet holes, don't feel bad. I only see four, as well. But there were no other marks on the paper and no bullet holes in the huge cardboard backer. So either the fifth round missed by more than a foot or it's in there… somewhere.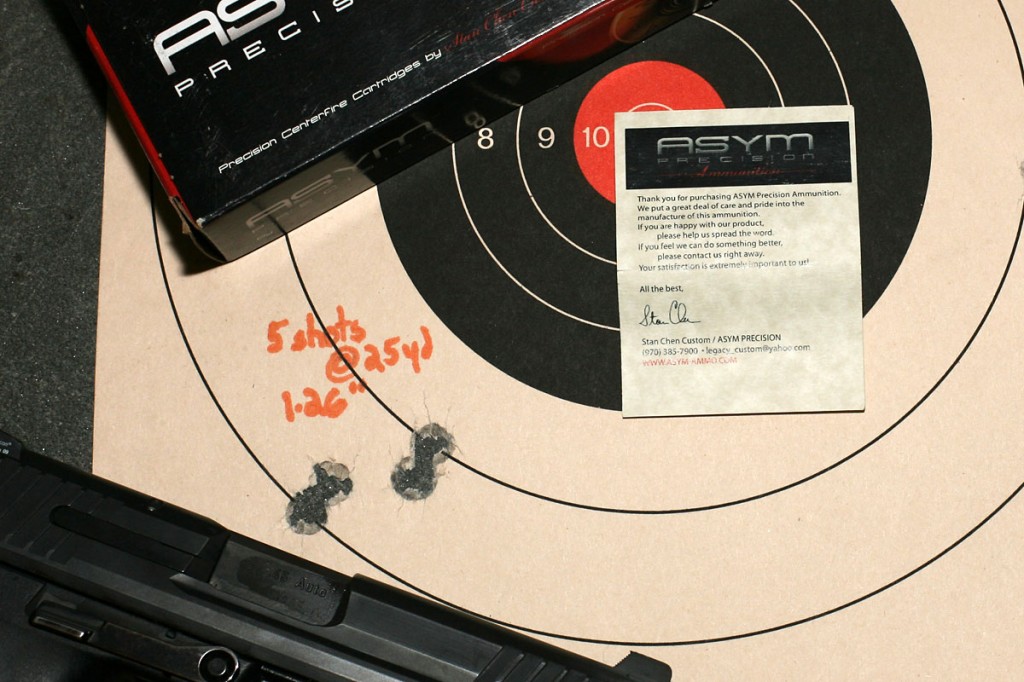 The 185gr National Match Target JHP, however, was the really amazing one to shoot. Rated at just 775fps, it wouldn't make Major in USPSA or be suitable for IDPA CDP. But it was literally like shooting a .22… a big, heavy, laserbeam accurate .22 out of an HK45. I was sorely tempted to run another F.A.S.T. drill with it just to see how things would shake out. Groups averaged 1.85″ with the best being this 1.39″: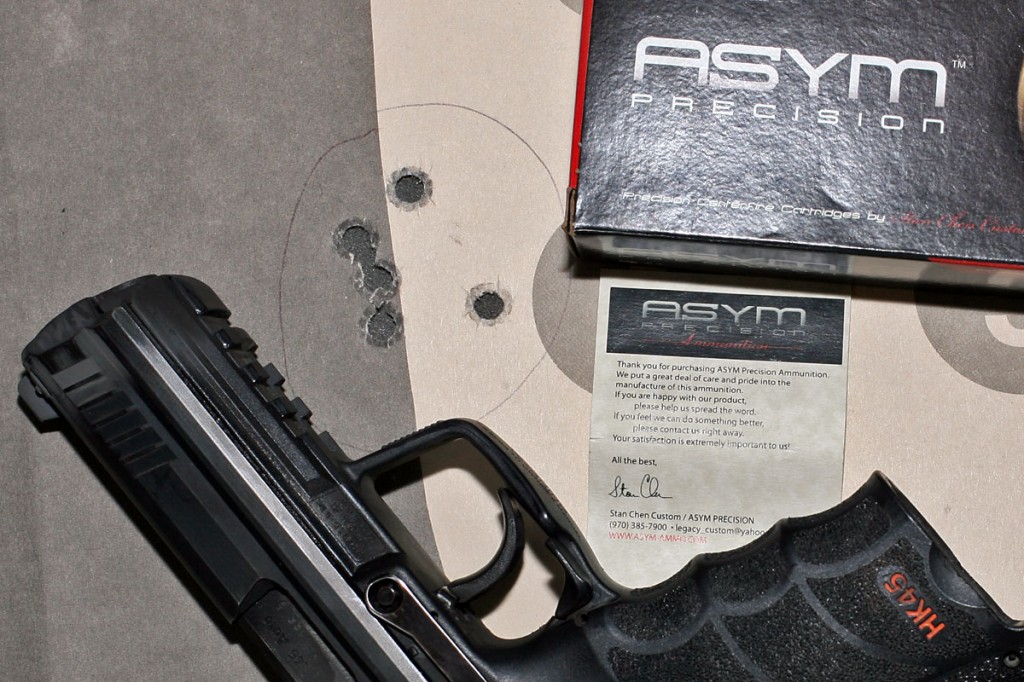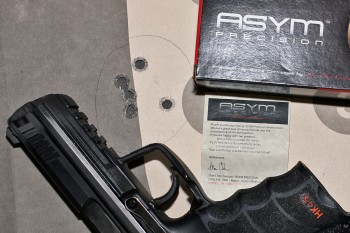 (thanks to Stan Chen of ASYM Precision for sending the ammo to test … I think we can all agree that next year's test gun should be a purpose built Stan Chen Customs 1911 shooting nothing but match grade ASYM ammo, right? If you're reading this, Stan, I'd like it in 9mm please. Night sights. Trigger pull in the 4.5-5# range. And 26.2lpi checkering just to be different. But if you have to use 26.0 that would be good enough, I suppose.)
Next week's update will include shots of the 50,000th round (have you entered the contest to guess when the last shot will be fired?) as well as a full review of the HK45 and what it's been like to live with one over the past nine months. Shortly after that, you'll see the promised result from the Vickers/Hackathorn HK45 interview I conducted a few weeks back. So there is still plenty of HK45 goodness to come!
Train hard & stay safe! ToddG
Previous HK45 Endurance Test posts at pistol-training.com: