15-Dec-10 – 22:18 by ToddG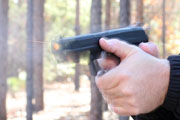 Round #50,000 was fired today at 1:15pm (1:15:32 according to the camera, specifically). The winner of the guessing game contest is: lindertw. His guess — today at 12:35 — was off by just 40 minutes. Congratulations!
The photograph capturing the event, and the identity of the shooter, will be revealed in next week's HK45 update.
Train hard & stay safe! ToddG