10-Feb-11 – 16:33 by ToddG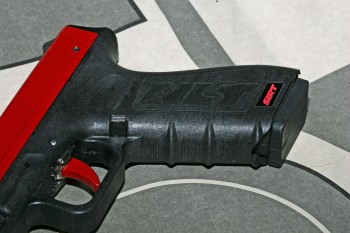 About a month ago, the guys from Next Level Training sent me one of their SIRT training pistols to evaluate. The SIRT is a Glock 17/22 form factor trainer that has an automatically resetting trigger and two lasers (one red, one green) that provide visual feedback during your dry fire routine.
Now I'll be honest, when Britt at NLT first contacted me, I was interested primarily for the sake of writing about it here at pistol-training.com, not for personal development. Let's face it, I get to live fire a lot more than most folks so subsequently I don't dry fire regularly. Much to my surprise, the SIRT has become my constant companion around the house and has completely reinvigorated my interest in dry fire practice.
So first off, what exactly is the SIRT?
Polymer frame with metal slide; very high build quality that far surpasses cheap Airsoft guns.
Fits in almost all Glock 17 holsters, accepts all normal Glock sights, and uses standard Glock magazines; allows you to train with your normal gear.
Self-resetting trigger; allows you to dry fire multiple shot strings without manually racking the slide between each one.
User-adjustable trigger; allows individual to customize the trigger to feel as close as possible to his actual pistol.
A red "take up" laser that projects as you press the trigger; allows you to see where you're pointing the gun during a press out and provides feedback about what inadvertent movement you're causing during the trigger press. Another benefit of the red take up laser is that it provides immediate notification if your finger putspressure on the trigger when it shouldn't!
A green "shot break" laser that projects as the sear releases and stays on until you release the trigger to the reset point; allows you to see where the shot actually broke as well as indicating what if any trigger snatch or anticipation you may have.
Or just watch NLT's intro video: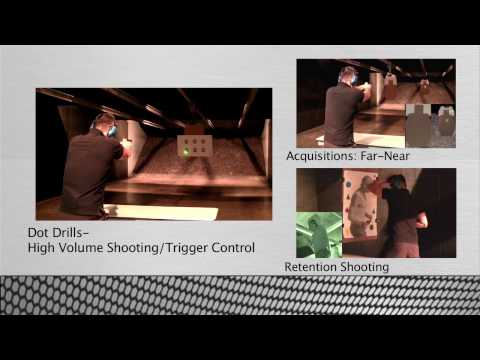 Basically, it all adds up to a dry fire tool that works exactly like your carry gun (especially if you carry a Glock) and allows you to dry fire naturally without the artificiality of re-racking the slide between shots. Furthermore, because of the visual feedback provided by the lasers, you can actually see where your hits are landing. Not only does this keep you honest while dry firing, but it makes the whole process much more interesting.
There is a small switch on top of the slide that allows you to switch off the red "take up" laser, so you'll only see the green laser when the trigger breaks. Personally, this is the way I use the gun for most of my practice. I do turn the red back on when I'm working on press-outs, though, whether from the holster or as part of a reload.
The SIRT is also highly customizable. Both standard and extended length magazine release buttons are available. As mentioned above, the sights are standard Glock design so you can put just about anything in the world on there. You can even switch the connections for the two lasers if you want a green "take up" and red "break" for some reason.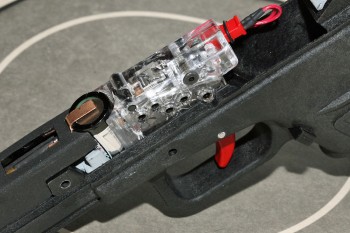 The trigger is user-adjustable for:
take up resistance
take up distance
break weight
break location
reset location
overtravel
Candidly, the adjustments require a little effort to get right and don't have enough range to cover every possible Glock trigger configuration. For example, I use the Glock "-" connector and the NY1 trigger spring to get ~6# trigger pull with noticeable resistance in the take up and a more rolling break; it also gives me a very positive reset. My SIRT comes close but doesn't have exactly the same feel as my actual Glock. Having said that, even when I was shooting my LEM HK P30 the trigger was close enough that it made for beneficial practice. I spent an afternoon randomly shooting the SIRT weak hand only at objects around my hotel room during SHOT Show and the next time I did some live fire WHO with the P30 there was noticeable improvement.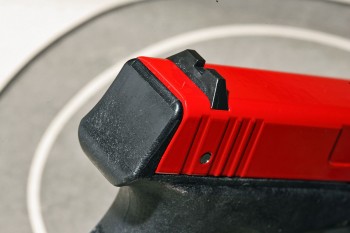 The only other criticism I have is that the slide doesn't move and there is no slide release lever. You cannot practice slidelock reloads or malfunction clearances.
A common question I've been asked is, "Doesn't the laser cause you to look at the dot instead of the sights?" Actually, it does not. The green laser in particular is extremely easy to see even when your focus is on the front sight. You might not be able to tell whether you hit the light switch or just its cover plate from 10yd away, but you'll know you hit what your front sight was pointed at. As a side benefit, though, I've found that running through the house with the take-up laser off has given me a great opportunity to see just how well I can point shoot.
However, in my opinion possibly the most useful aspect of the SIRT is as a force-on-force tool.
I'm a certified Simunition instructor with half a dozen Sim guns & kits in my locker, not to mention plenty of protective gear for multiple people. I've also got a handful of Airsoft guns. Those all have their place. But the SIRT has some serious benefits that you cannot achieve when running Sims/Airsoft. For example, by eliminating the need for a facemask, FOF training with the SIRT means your role players can use realistic facial expressions and eye movements as pre-fight cues, things that would be impossible for a student to notice behind a mask. You can also set up a FOF scenario or drill with no additional safety equipment or concern about damaging walls, furniture, etc. Just double check to make sure no one in the training area has a live weapon and you're good to go.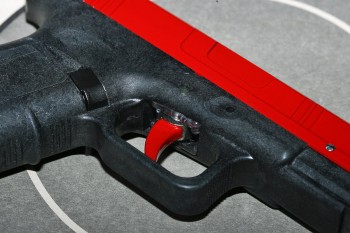 Something like the SIRT opens up a whole new aspect of drills to people. Have you ever tried to hit a thinking, moving human being? It's not the same as shooting a swinging paper target or a steel plate moving in a straight line at a constant speed along a known path. With the SIRT, you and your training partner can work on taking handgun skills to the next level by applying them against real natural movement, real cover/concealment, etc. And unlike with Airsoft,  you get an obvious visual indicator of whether you are scoring meaningful hits or not.
FOF training with the SIRT lacks the pain penalty that makes Simunition FX so useful, but it can be done for far less money and without all the safety equipment needed to do Sims per the manufacturer's recommendation. As such, I don't think the SIRT serves as the only FOF tool you could ever need, but it definitely opens up practical FOF to a wider audience with a few benefits that even Sims/Airsoft cannot give you.
And that is exactly what the folks at NLT think about their product. They're not pretending it is the end-all be-all of firearms training. Their entire program is based on using the SIRT in conjunction with live fire, etc. This isn't a company that pretends it's found the recipe to the secret sauce. They're providing a training aid that you can incorporate into a wider system of practice.
The SIRT is available in two different color combinations, both with a black frame: clear (silver colored) slide or red slide. I prefer the red version personally as it distinguishes the SIRT very clearly from any of my live fire weapons. This is particularly useful in FOF training.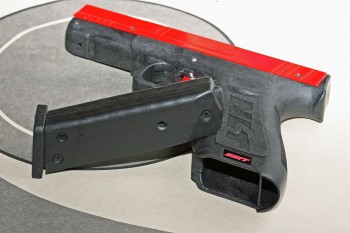 The SIRT pistol isn't cheap. Retailing for $439 (which includes a weighted training magazine), it costs about the same as two cases of ammunition. Is it worth it? My answer is that it depends on you. If you're actually going to use the SIRT intelligently and diligently for dry fire and possibly FOF over a number of years, you'll get far more out of it than 2,000 rounds of live practice.
The great folks at NLT have also generously offered pistol-training.com readers a 10% discount for a short time. Use the code "pistol-trainer" (should be easy to remember) and you can buy a SIRT for $399.
There is also a SIRT system for the AR15 now, as well as an M&P version coming soon. I had a chance to play with the AR15 conversion (which is nothing more than a bolt swap that gives you both the laser and resetting trigger features on your own AR15-pattern gun) and I am confident it will be at least as popular as the pistols.
For something I thought would fall into the "mildly cool" category, the SIRT has been incredibly useful and impressive. I endorse it wholeheartedly. Huge thanks to Britt, Mike, and the rest of the guys at Next Level Training for introducing me to their SIRT training pistol!
Train hard & stay safe! ToddG