18-Mar-11 – 20:17 by ToddG
(aka, Glock 17 gen4 Endurance Test: Week Zero)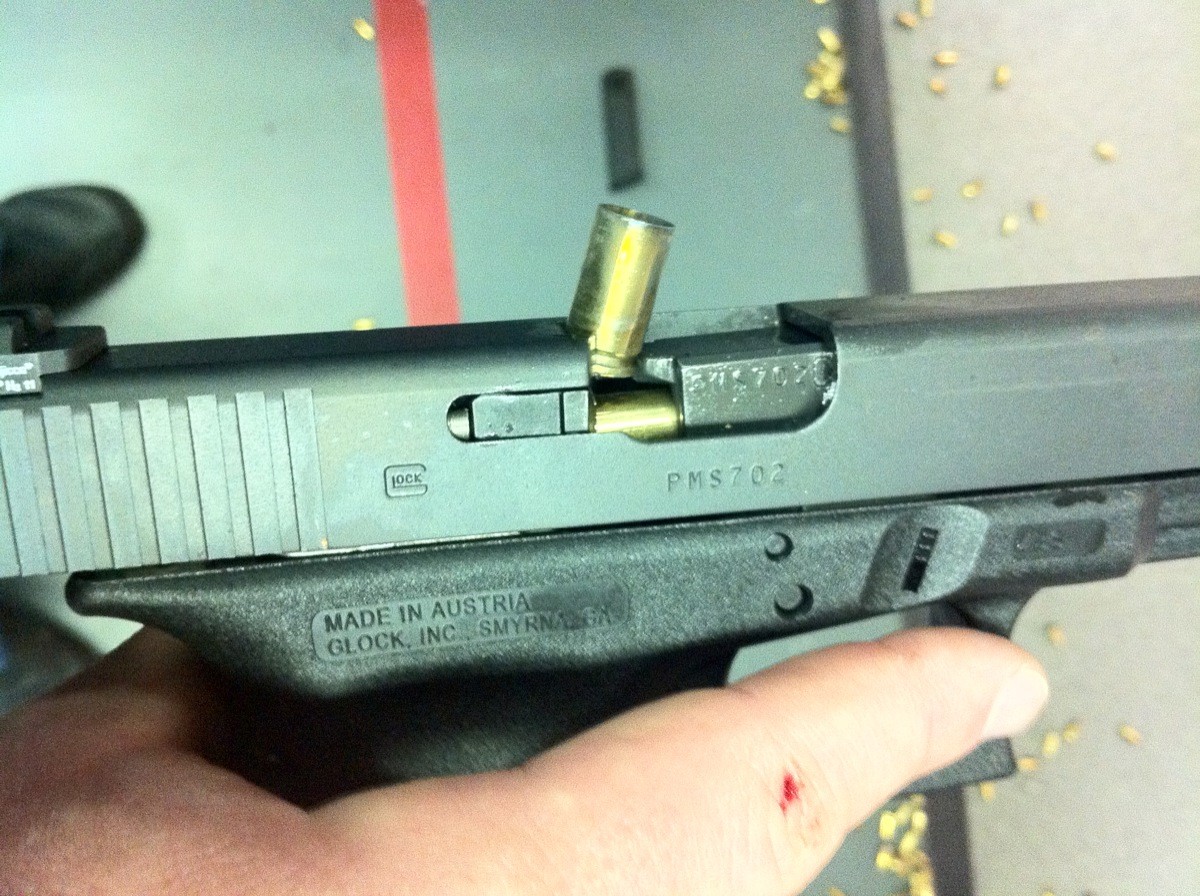 548 rounds

5

stoppages

0

malfunctions

0

parts breakages
Well that didn't work out quite the way I'd hoped.
The photo above was round #62 through the gun, a near textbook stovepipe. It was followed shortly thereafter by a second at round #188, then two more ejection failures at #230 and #398. At that point, I decided it was time to call it quits. After lunch with a buddy, he asked to try the gun and one hundred forty-four rounds later (#542) he had another stoppage. All of the stoppages were with American Eagle 124gr FMJ which has proven reliable in a number of other guns.
To say it was a frustrating day would be an understatement.
First thing I did when I arrived at the range was field strip the gun. Sure enough, my slide fell within the unfortunate production run that lacked the proper recess cut for the recoil assembly (I would call it a lack of counterbore in the spring box; Glock calls it a flat nose ring). Regardless of what you call it, it requires a non-standard recoil spring (identified as 0-2-1) which Glock offers, at least for the time being. My biggest concern with the "flat nose ring" slides is that because they're not standard production there is no telling whether Glock will continue to make the non-standard spring assembly available forever. Also, any aftermarket devices designed to replace the recoil assembly probably won't take these guns into account. Still, in the grand scheme of things, if it works it works and I was not deterred.
Next I tried to detail strip the gun to install the action components I like to use: a "-" connector and a NY1 trigger spring. However, disassembly was rather difficult… far from the norm for a Glock. The trigger pin was so tight in the gun that the standard method of removing it by wiggling the slide catch lever wouldn't work. In fact, the slide catch lever had absolutely no horizontal play whatsoever. Finally, after consulting with a Glock expert (and armorer instructor) I resorted to having someone help me "gently" knock the pin out with a punch and mallet.
After forty five minutes spent trying to do ten minutes worth of work, it was finally time to shoot.
First up, I did a Dot Torture at seven yards to get acquainted with the Ameriglo i-dot Pro sights and the trigger. I scored a 47, dropping one shot on dot #3, one shot on dot #7, and one on dot #8. All of the misses were a result of poor trigger presses, not the sights.
Next I planned to take three F.A.S.T. runs. The first run went fairly well.
4.98 (-1 head): 1.68, .42 / 2.26 / .22, .21, .19
I knew that my reloads with the Glock were going to take some work. I'm used to using my trigger finger on a paddle (P30/HK45) instead of my thumb on a button, and the different grip angle of the Glock has me trying to insert the magazine out of alignment. My second run might have been better, but on the last round I had the #62 stoppage. I didn't even bother with a third attempt.
I shot Tom Jones' great Bullseye 1000 test next, scoring 835 – 9X. The G17 proved to be incredibly accurate, turning in unsupported standing 5-shot groups of 2″ at 25yd without much effort. Again, the 7# trigger pull and wide front sight of the i-dot Pro did not seem to hinder my performance. I had no stoppages during this test, even when shooting weak hand only. It's also worth noting that I used Federal 124gr +p HST during the BE1000, though.
Next up was some speed work to get acquainted with the giant orange front sight and the pistol's reset. I shot 7yd Bill Drills and was easily getting my hits in under two seconds. However, it was during this phase of the test that I had the #188 and #230 stoppages.
At that point, knowing folks would point to anything non-stock on the gun as a possible cause, I removed the Vickers slide catch (which is outstanding, by the way). I also started varying my shooting to see if there was any consistency to the stoppages. I shot with a weak grip, I shot while purposely slacking my wrists, I even fired some shots were I jerked the frame backwards as I broke the shot (the true cause of what most people identify as "limp wrist" problems). The gun worked every time. Then, right as I was about the write off the three stoppages as break in, I had another during some slow fire. It clearly wasn't the slide catch. It clearly wasn't limp wristing. It clearly wasn't happening only in rapid fire. The gun was just fubar.
I had lunch with friend Rob Curtis from Military Times and of course described to him what was going on with the Glock. He told me that he's put almost a thousand rounds through his G19 gen4 without a problem and asked if he could try my 17. So we packed up and went back to the range. He made it through eight magazines without a problem and must have been thinking I'm just a limp wristing fool. Then on the next mag, his 144th round, he had an ejection failure. That was #542 and the death knell for the pistol.
Between the G19 gen4 that I returned last month due to reliability problems and today's G17 issues, my impression of the gen4 9mm guns is rather poor. Having said that, I've seen a number of students come through class using both 17's and 19's without problem. Two weeks ago I even used a borrowed G17 gen4 in Atlanta to teach for a weekend and the only stoppage I had was a premature lockback that was shooter induced thanks to the extended slidestop on the gun.
So I know there are gen4 9mm's out there running well, and I'm not condemning them. But I'm 0-for-2 at this point and don't see putting more ammo into a third gun in hopes that I'll finally get a good one. For me, personally, I can't trust a gen4 9mm enough to carry it right now.
Glock is supposed to be sending me a replacement for my original G19. I've now asked them to change it from a gen4 to a gen3 (preferably RTF2, but I'll take what I can get). As for this gun, I'm waiting for some options to sort themselves out before deciding what to do next.
But there's an HK P30 in my holster as I type this.
(and if you still don't get the PMS reference… check the serial number of the pistol, it's right there on the slide in all the photos)
Train hard & stay safe! ToddG
Previous Glock 17 gen4 Endurance Test posts at pistol-training.com: