25-Mar-11 – 11:18 by ToddG
3,109 rounds

5

stoppages

0

malfunctions

0

parts breakages
What a week!
The pistol appears to be running fine now that it has the (technically obsolete) extractor and spring loaded bearing installed. Even shooting the pistol with a dramatically compromised grip weak hand only I could not induce a stoppage. The gun has now successfully performed through enough rounds, including my JHP ammo (Federal 124gr +p HST, which has never suffered a stoppage of any kind in the gun regardless of extractor or SLB), that I'm carrying it with confidence.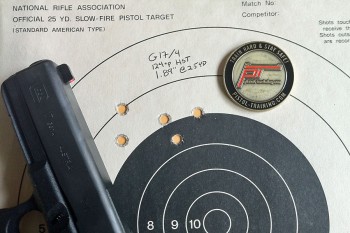 The pistol has not yet been cleaned, though obviously the slide was detail stripped to deal with the faulty extractor. My plan is to clean and lubricate it before the Speed Kills/Get SOM class in Seattle this weekend and use that as the start of a 2,000 Round Challenge now that the pistol is in the final configuration (hopefully) for the test..
The G17 turned in some very reasonable accuracy this week. Five 5-shot 25yd groups from a bench turned in an average of 2.52 inches shooting the 124gr +p HST, with a best of 1.89″ and a worst of 3.12″. I also shot Tom Jones's excellent Bullseye 1000 test, scoring a respectable 835-9X.
One of the most interesting bits of data from this week was running the F.A.S.T. fifty times to create a baseline as well as to compare to last year's HK45 test. Here are the results from the last series with the HK and the G17:
| | | |
| --- | --- | --- |
| | HK 45: 27-Oct-2010 | G17: 24-Mar-2011 |
| Average (total) | 5.46 | 5.50 |
| Average (raw time) | 4.50 | 4.66 |
| Best run | 4.14 | 4.21 |
| Worst run | 8.46 | 8.69 |
| Head hits | 80% | 83% |
| Body hits | 98% | 98% |
| Draw (avg) | 1.43 | 1.56 |
| Head split (avg) | 0.45 | 0.45 |
| Reload (avg) | 1.94 | 2.01 |
| Body splits (avg) | 0.23 | 0.21 |
Of course, as I've said before it's cheating to shoot the F.A.S.T. more than three times per day, but as I've already got my challenge coin (and I consider myself disqualified from setting the world record, not that I see myself beating Sevigny's run any time soon) it's an interesting way to gather comparative information. Counting only the first three runs each day, my scores were:
Monday 21-Mar
4.41 (-1H): 1.50, .42 / 1.91 / .20, .20, .18

4.42 (c): 1.48, .50 / 1.87 / .19, .19, .19
4.38 (c): 1.52, .40 / 1.92 / .20, .17, .17
Wednesday 23-Mar
4.97 (c): 1.57, .68 / 2.00 / .27, .23, .22
4.84 (c): 1.68, .64 / 1.90 / .21, .20, .21
4.78 (-1H / -1B): 1.65, .46 / 2.05 / .21, .21, .20
The Monday runs were trying to push myself with the new gun, and I was happy with the results. The Wednesday runs I was trying to straddle the speed limit and get a long row of clean sub-5 runs, but completely messed up on the third try.
There are three big changes for me switching to the Glock:
Magazine release button on the left side of the gun (actuated with my strong hand thumb). For the past thirteen or so years, I've shot Berettas, SIGs, Smiths, and HKs all using my trigger finger to hit either the reversed or ambidextrous mag catch. With the Glock, the catch is too far back for me to get reliable contact with my trigger finger unless I twist the gun in my hand, while I can reach it without much movement using my thumb. It is going to take time to relearn that technique, however. A few times, I've failed to hit the catch hard enough and the magazine has hung up.
Heavy Glock trigger. I've set my pistol up with the factory "-" connector and NY1 trigger spring. When mated to the gen4 trigger bar, I'm getting about a 7.5# trigger pull. That is about 25% heavier than I'd like, but it's the lightest weight I can get using stock parts and the NY1 trigger spring. The pull is smooth, though, and rolls through the break nicely. I'm going to stick with this configuration for the first 10,000 rounds and then if I decide to switch away from the NY1 trigger spring, I'd be doing it at the same interval when the standard coil trigger spring would be replaced as part of preventative maintenance anyway.
Ameriglo i-dot Pro sights. These sights are working out far better than I would have predicted. I first used them a few weeks back when Glock loaned me a pistol for the Atlanta Aim Fast, Hit Fast class and now that I've put another three thousand rounds downrange I'm a believer. There's still a learning curve, though, and it's taking some time to acclimate to the big Hackathorn front sight. Once I've had a few more weeks of serious shooting with them, I'll do a separate write up all about them.
The most noticeable difference so far has been first shot speed on the F.A.S.T. Between the heavier (and much different, compared to LEM) trigger and different sights, my press outs need a lot of work.
So there you have it. Conspiracy theories and other internet lunacy notwithstanding, the test continues. See you next week.
Train hard & stay safe! ToddG
Previous Glock 17 gen4 Endurance Test posts at pistol-training.com: