3-Jun-11 – 18:32 by ToddG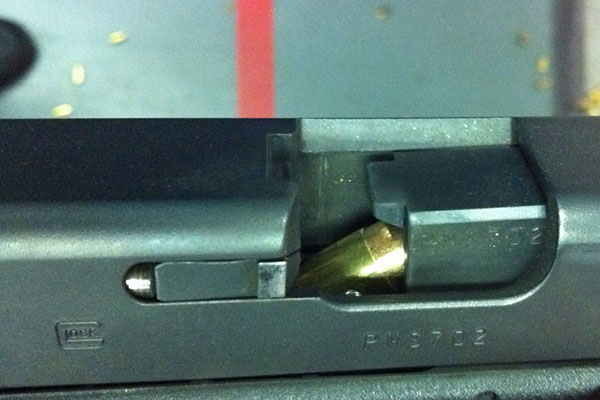 16,312

rounds

6

stoppages
(+1 w/non-LCI extractor)

0

malfunctions

0

parts breakages
Lots going on this week with the test:
After #14,292 the G17 was detail stripped and cleaned.
After #15,093 the G17 had a new recoil spring (0-2-1) and slide lock spring installed.
At #16,030 the G17 had a failure to feed, pictured above. The round appeared normal and chambered just fine on a second attempt.
The failure to feed is the first stoppage the pistol has experienced since putting the latest extractor in the gun almost thirteen thousand rounds ago. Nobody wants to see a stoppage of any kind in his carry gun, but realistically if you run a gun hard it is eventually going to have bobbles. In the grand scheme of things, a Mean Rounds Between Stoppage of 13,000 would be acceptable by anyone's standards.
As mentioned, I replaced the recoil spring assembly per plan at about 7,500 rounds. What I didn't expect to see, however, was the 0-1-1 recoil spring intended for .40-cal Glocks that had apparently been in the test gun for that 7,500 rounds. A 0-1-1 must have been accidentally in the package of springs I received and I never noticed the designation until removing it for replacement this week. Noteworthy that the "too-heavy" spring — which many have assumed was the cause of the gen4 Glock reliability issues — ran like a champ in my gun, isn't it?
Another major event this week involved "the gadget" reaching the 10,000 round mark without causing any issues with the gun or suffering any breakage. In fact, it does not appear to have any wear or dimensional deformation at all. Tom Jones and I are understandable excited about that!
After whining about how long it took Glock to send me the spare G17… I still haven't fired a round through it. Next week, I promise!
Train hard & stay safe! ToddG
Previous Glock 17 gen4 Endurance Test posts at pistol-training.com: