7-Sep-11 – 09:08 by ToddG
As long time readers of pistol-training.com and pistol-forum.com will know, I am a believer in using ammunition manufactured by the Big Three: ATK (Federal & Speer), Remington, and Winchester. These companies spend more money on quality control than their smaller competitors make in a year. They have capabilities — like sealing primer pockets and case mouths against environmental contaminants — that the little guys usually don't, too.
They also do more testing and development. Years ago, a small company called Triton Ammunition sent me some 357SIG hollowpoints to test. The copper washed bullets were not properly constructed for the pressures and velocities of the 357SIG. The "jacket" literally shredded itself in the barrel and the malformed projectile then flew out into the world in a nearly random direction. Out of 20 rounds fired on a 15×18″ target at 25yd from a seated rest only one bullet managed to hit the paper. Five rounds fired at 15yd measured well over 12″. The same gun (a custom Beretta 96G rechambered for the 357) averaged 1.72″ 5-shot 25yd groups with six other loads from Federal, Remington, Speer, and Winchester. Clue.
Triton never could have test fired this ammo through a gun. They just loaded it and sent it out to gunshops. Even after the problem had been identified, they did nothing to recover or recall the affected ammo. Triton went out of business almost as quickly as it started up. Clue.
But even top brand ammunition is not immune to production mistakes. As demand increases, output increases. We also tend to shoot a lot more than previous generations so each of us is likely to see ten or even a hundred times as many rounds. The odds of finding some bad ammo, then, has increased pretty substantially. It's important that we check each round of ammo before it goes in the gun. That's especially true with the ammunition you keep in the gun for duty, home defense, or concealed carry.
For practice ammo, primarily I rely on a quick visual check in the box. This happens before I load up a magazine or dump the whole box into an ammo can. I'm looking for two things: are the rounds all about the same height and do they have properly assembled primers? A round that sits so tall or short in the box that it's noticeably different probably needs to be culled. Missing or damaged primers also tend to be pretty noticeable.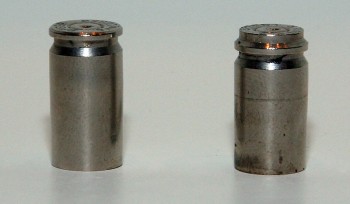 Ammo I put in my gun for off the range gets a more serious examination. In addition to the in-the-box check above, I quickly inspect each case to be sure it's properly formed and has no cracks, dents, or other imperfections that could affect function. You can find some pretty whacky stuff this way. The photo at left shows an improperly extruded case (R) compared to a properly formed case of the same ammo (L). The bad round fed into the gun and fired properly, but because the extractor groove and rim are in the wrong place there was no way for the extractor to grab the case and it had to be punched out from the muzzle. Obviously, that's a problem you cannot expediently address in a fight. This wasn't from a round of crappy off-the-shelf ammo, either. It was a round of name brand top of the line JHP ammunition issued to a high profile federal law enforcement agency.
I also chamber check my carry ammo. I take the barrel out of the gun and drop each round into the chamber one at a time. If the overall length is too long or there is some deformation of the case, it will often show up here. It only takes a few minutes and can be done along with the visual inspection. A round that looks perfect might still stick due to some dimensional abnormality undetectable to the human eye.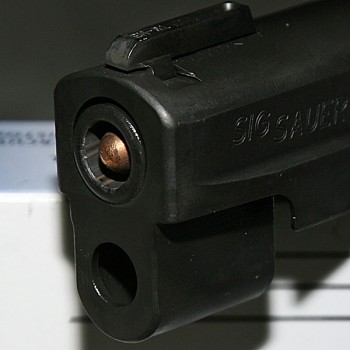 Of course, even if you check everything you can still run afoul of bad luck. The photo on the right is a fairly unusual squib load in which the bullet had just enough momentum to reach the muzzle but not leave the gun. There is no practical way to test for that in advance. A squib is just the Gods of War telling you, "Take a break."
Take the time to check your ammo. Whether it's a few seconds in a match, a blown up gun, or having your defensive tool turned into a bookend at the worst possible moment you really don't want to have a problem that could have been prevented with just a little time and effort.
Train hard & stay safe! ToddG