19-Aug-11 – 17:48 by ToddG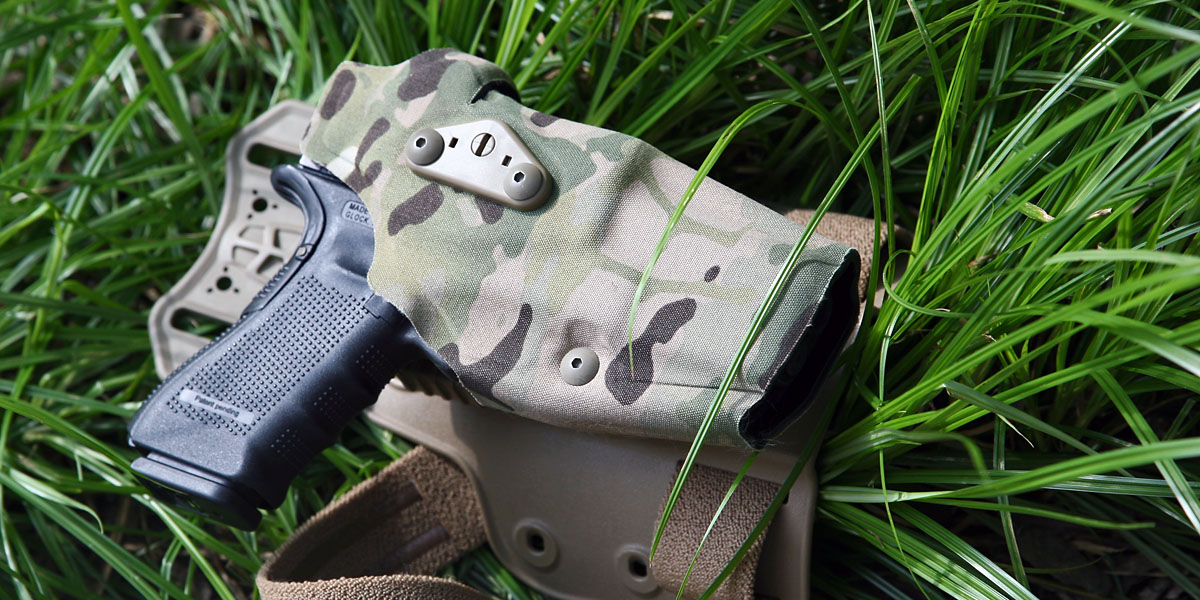 32,958 

rounds

7

stoppages
(+1 w/non-LCI extractor)

0

malfunctions

0

parts breakages
That's right… pistol-training.com has gone multicam! In fact, I've been wearing the gun in that holster for the past six months, but it's impossible to see so no one noticed.
OK, maybe not. The holster, however, is completely legit. It's a Safariland 6354 specially built for one of Safariland's government cutomers. The hump near the ejection port is for the optional mini red dot optic but the holster is equally secure with or without it. Here are some more pictures where you'll never be able to find the gun thanks to the magic of multicam:
All joking aside, this is an exceptional holster that makes use of Safariland's innovative QLS mounting system allowing the holster body to go from thigh rig to belt rig to chest rig in, literally, a snap. It also features the patented ALS retention system which is so fast, we give you a penalty of half a second on your F.A.S.T. score if you use one of these holsters… seriously.
Now if only they'd make me one in orange.
Sadly, the 6354 is on temporary loan and will soon be in the hands of someone who actually has a legitimate reason to be wearing a multicam uniform.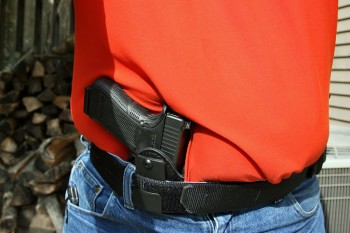 Another holster I received from Safariland is their Model 27. Much to my surprise, the highly adjustable 27 is actually doing a decent job as an aiwb holster. For such a simple design, it conceals the gun very well. As you can see from the photo at left, it rides at a good height but still pulls the butt of the gun into the body. Comfort is also very good, in part due to the fact that the holster's j-hook cants slightly when seated. Of course, the flipside is that the holster's cant changes as you sit, stand, run, jump, and perform your mandatory ninja-spetznaz somersaults. That compromises the speed of the draw somewhat. And like any j-hook holster, it is not as effective in a weapons retention situation. The easier a holster comes off on purpose, the easier it will come off when you don't want it to, too. Still, I've made a commitment to use the holster for the next week and will probably even run it in next weekend's Aim Fast, Hit Fast class in Albuquerque. But it's not as good at hiding in the woods: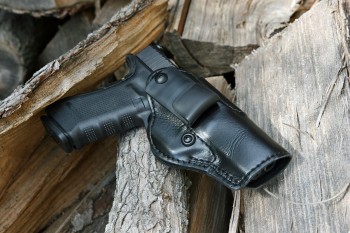 As for the pistol, it ran fine during two sessions for a total of almost nine hours and 1,252 rounds this week. The Grip Force Adapter and Trijicon HD sights continue to deliver great results, including this F.A.S.T. last Saturday in Culpeper:
4.23 (clean): 1.45, .42 / 1.81 / .19, .18, .18
That's my best run yet with the Glock 17, and 0.15 seconds behind my personal best (shot with the P30). Ammo was American Eagle 115gr FMJ. Holster was a CCC Shaggy, mag pouch was a CCC BMC, belt was a Wilderness Frequent Flyer.
(editor's note: no it wasn't… I shot a 4.22 in March)
Next week will most likely be only a short update with just one practice session, but hopefully some more feedback on the Safariland 27 as an aiwb holster.
Train hard & stay safe! ToddG
Previous Glock 17 gen4 Endurance Test posts at pistol-training.com: