1-Oct-11 – 14:53 by ToddG
38,676 

rounds

8

stoppages
(+1 w/non-LCI extractor)

0

malfunctions

0

parts breakages
The reason you don't see serious high round count tests in gun magazines is because over the course of many months and tens of thousands of rounds, stuff happens that can be hard to quantify.
This week, I received five new magazines to replace the original six that had begun showing signs of wear. As mentioned previously, my policy has always been to replace magazines rather than repair them. Once a part of the mag starts to show signs of wearing out, it's not worth the risk to wait for other issues like spread feed lips, damaged followers, or broken floorplates to make a bad situation worse. So if a mag is no longer dependable enough to use for carry, it's no longer worth keeping around.
Unfortunately, three of the five new magazines have a small problem. When I shoot, they eject from the gun of their own accord during recoil. As in, bang bang bang click. What the? Hey! Is that my mag on the floor? Yes it is, other Barry, yes it is.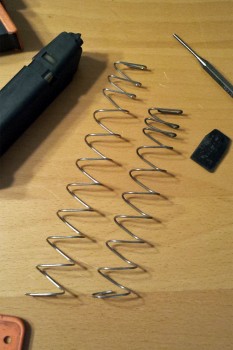 Clearly, that sucks. And it's all Glock's fault so Glock sucks. Except… maybe not. See, when my good friend Todd Kennedy shot the gun using those magazines, they didn't eject. When I shoot the gun strong hand only, they don't eject. Only when I get my normal two handed grip do the mags run in fear. Clearly, my left hand is making contact with the mag catch — which is a slightly extended "FBI" mag catch — and putting just enough pressure on the catch to dislodge the mag in recoil.
So it's my fault. Except… not exactly. All four of the mags I use for carry — two standard and two with factory +2 extenders — work fine and never self-eject. Two of the new mags don't have the problem. All six of the old mags, now with new springs because rules be damned I need practice mags, work fine and don't eject under recoil, either. pictured are the new (left) and worn (right) mag springs
So, it's a big question mark. Are the mags sufficiently screwy that they'd be a problem in general, or is it just a bizarre incompatibility with yours truly? My plan is to have more people shoot the gun using those magazines as well as to test those magazines in another gen4 G17. If the problem extends beyond my one gun being shot by just me when using my particular 2-handed grip then I'll count the mags as broken and they'll be tallied above. If, on the other hand, it's just some bad karma between me and these three particular magazines then I'll eat the responsibility and not count it against the test gun.
In the meantime, I did actually shoot the gun quite a bit this week:
Turned in a 17-point-something clean run on the barrel/figure-8 drill during last weekends GetSOM class in Indianapolis… a personal best.
Took another run at the Half & Half drill (PTC version). Got all my hits at 20yd and 10yd but just could not break ten good shots from concealment in 2.5. My total score was another 280, with one miss and one late shot at 5yd. For giggles, I timed myself on a 10-shot run from concealment. Ten hits took 2.73 seconds with a 1.16 draw and splits from 0.15 to 0.18.
The dreaded 99 Drill beat me down yet again. After cleaning the first string (3 on 3×5 at 7yd in 2.5 seconds from concealment) and feeling generally awesome about myself, I dropped a whopping four points on each of the next two strings and then added insult to injury by dropping two out of nine at the 15yd line. Time to stick more pins in my JodyH voodoo doll.
Shot a fairly nice 4.80″ group at fifty yards standing offhand. This was with my carry ammo (Federal 124gr +p HST):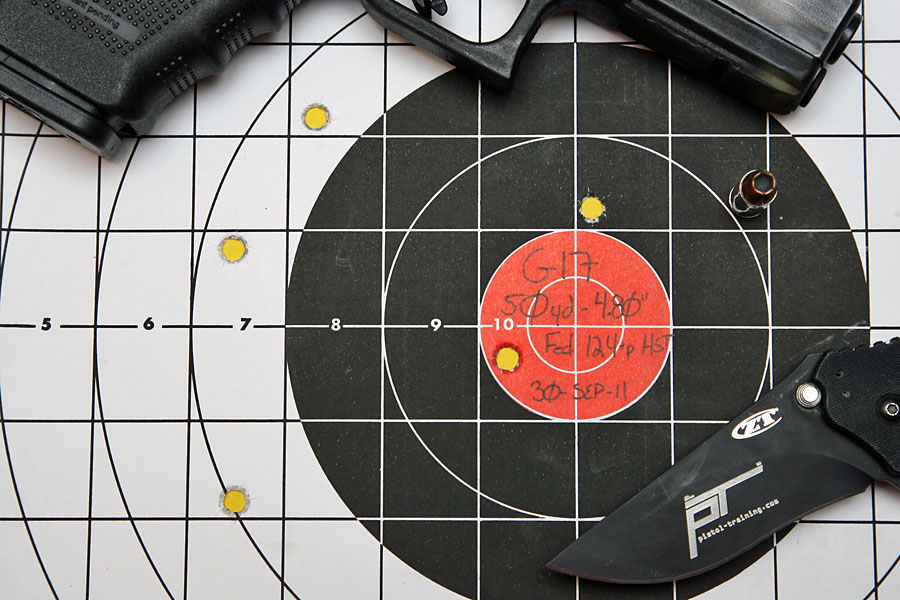 Also, passing the 37,500 mark meant it was time to replace the recoil spring assembly. The pistol will get the latest "0-2-4" spring installed the next time I'm at the range. As this week's magazine problems demonstrate, it's never smart to assume that a new part will work as well as the old part it's replacing. Until I can put the new spring in the gun and fire a few hundred rounds downrange (including some of my carry ammo), I'll stick with the old spring for day to day carry.
See you next week.
Train hard & stay safe! ToddG
Previous Glock 17 gen4 Endurance Test posts at pistol-training.com: