22-Oct-11 – 14:46 by ToddG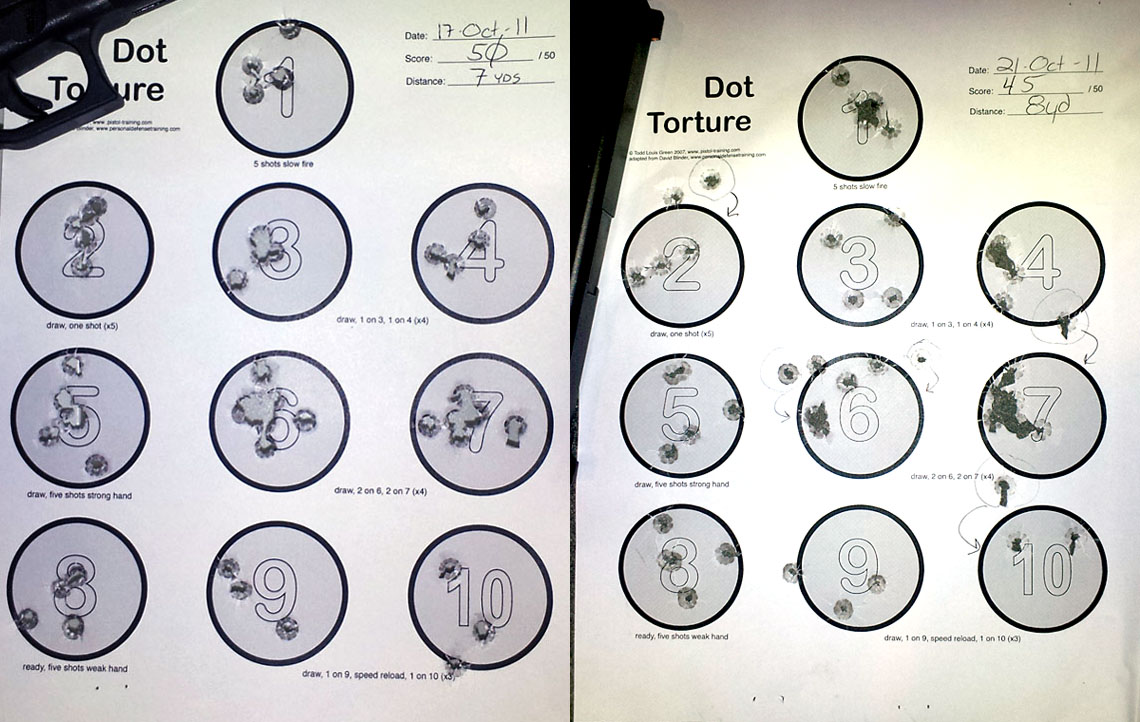 43,693 

rounds

8

stoppages
(+1 w/non-LCI extractor)

0

malfunctions

1

parts breakages
Quite a few rounds went downrange over the past week with four separate trips to the range.
Before the last range session, I swapped out my Trijicon HD sights for a set of Warren/Sevigny 2-dot. I repainted the white ring around the front tritium dot in orange for a bit more visibility and hit the range. Over the past few weeks I've been feeling that both my maximum slowfire accuracy as well as my serious accuracy at speed on low probability targets were suffering a bit due to the Trij HD's wide front sight.
It's too early to tell for sure, but if yesterday was any indication, the Warren sights were no help. For example, on a particular walkback drill you can compare my results from Monday (Trij HD) and Friday (Warren):
| | | |
| --- | --- | --- |
| position | Trij HD | Warren |
| 2H | 16yd | 11yd |
| SHO | 10yd | 5yd |
| WHO | 15yd | 9yd |
I also tried Dot Torture, which was the pistol-forum.com Drill of the Week. Monday at seven yards with the Trijicon sights I scored a perfect 50. Friday I moved it out to 8yd with the Warrens and scored a 45. I was actually hoping the Warren sights would help me reclaim the glory of Week 5: HK45 Test when I scored a perfect 50 at 10yd. No such luck.
One thing the Warren sights are doing, however, is showing me just how bad my trigger pull is. Even after more than seven months, I'm still struggling with the Glock trigger compared to the HK LEM system. It's particularly noticeable on the press-out. Hopefully, sooner rather than later there will be a decent "3.5#" connector for the gen4 guns that can be mated with a NY1 trigger spring for more of a rolling break. While the dot connector is a tremendous improvement over either the standard gen3 connector or the minus gen3 connector, it puts almost all of the pull weight at the actual break. I'm almost to the point of buying a bunch of aftermarket 3.5 connectors to see if any of them will give me the trigger pull I want in a gen4 pistol with a NY1 trigger spring.
Having said that, I'm not writing the Warren sights off quite yet. I'll give it a few weeks of dedicated practice before I make a final decision about whether they're helping or hampering my overall shooting.
Train hard & stay safe! ToddG
Previous Glock 17 gen4 Endurance Test posts at pistol-training.com: