1-Sep-08 – 23:30 by ToddG
35,731 rounds
2 stoppages, 0 malfunctions, 0 parts breakages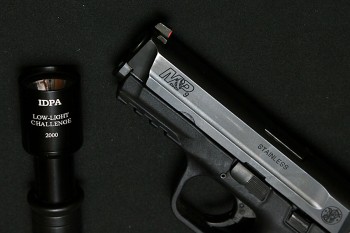 Schedules collided this week and  not quite as much shooting was accomplished. Nonetheless, the gun continues to chug along and is now well over 35,000 rounds. Still not a single stoppage since the suspected maintenance error thirteen weeks and twenty-five thousand rounds ago.
With so little range time this week, it was impossible to fight off a sense of nostalgia about the four long months we've been shooting this gun. In that short time it's been to one of the most celebrated shooting schools in the country, been handled by dozens of shooters from novices to world champions, helped set a number of personal records, and used for demos at the first ever open-enrollment pistol-training.com class. In less than two weeks, it will travel internationally for the first time as part of the pistol-training.com class being held in British Columbia. This pistol has been carried every day and truly has become a most dependable and comforting companion.
Last week, a number of readers discussed what might happen to the test gun when it hits 50,000 rounds. Well, during Week 19 pistol-training.com and Smith & Wesson had some discussions about this (and some other items). We can't make any formal announcements quite yet, but hopefully very soon that question will be answered and we'll have some great news to share.
On an administrative note, we've now added a new post category specifically called "M&P Monday" to make it easier for readers to find and search these weekly reports. We hope you find it a useful feature.
See you next week!
Train hard & stay safe! ToddG
Previous entries: