20-Mar-12 – 10:39 by ToddG
About halfway through my practice session yesterday, a young guy came onto the range and started blasting merrily away at his target with little to no regard for whether he actually hit anything. He alternated between dumping full 30-round mags out of his AR15 and full 15-round mags out of his Glock 19 as fast as he could.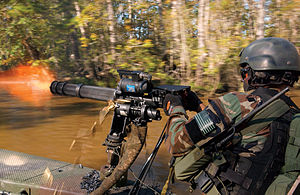 On its face, I have no problem with this. It's his ammo and his range time. If hosing the backstop is his idea of recreation, so be it.
However, within a couple of minutes the decibel level on the range hit a painful crescendo. Suddenly, half the guys on the firing line were doing mag dumps, all trying to be faster than the stranger next to them. Rounds were pinging off the steel target carriers, the walls, the floor, and the ceiling. Suddenly, everyone had to be shooting mag dumps because they wanted to be as cool — or at least as loud — as the first guy.
It doesn't matter how fast the Big Loud Noise is happening if you've got no idea where the gun is pointed when it goes bang. This is why I teach people that trying to shoot a cadence is a bad idea. You cannot aim with your ears, so your ears shouldn't be the way you measure shooting success.
The real lesson here is simple: don't let the guy next to you dictate your shooting practice. Is he shooting faster than you? OK. Let him. Is he working his weak hand only skills? OK. Let him. Either he's got his plan — which isn't your plan — or he's got no plan at all. Either way, you stick to your plan. Don't fall into the trap of trying to impress or one-up a stranger on the range. It's just a waste of time and ammo.
Train hard & stay safe! ToddG
(photo courtesy of wikimedia.org)