12-Apr-12 – 14:02 by ToddG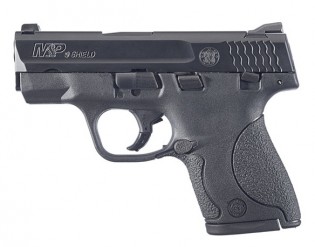 Smith has been playing with the idea of a single-stack "subcompact" cousin to its M&P line for years. One particularly loud but easily fooled "industry insider" was telling everyone that they'd be on display at the SHOT Show… in 2011. Nor was the gun released (or discussed much) at SHOT 2012. But now the baby Smith has arrived.
Dubbed the Shield — though buckler may have been more apt given its size — the gun is less than six inches long and less than an inch wide. It comes with both a flush fitting 7rd magazine and an extended 8rd mag. For more details and an in-depth review from someone who's already put 500 rounds through a Shield, check out Caleb's write up at Gun Nuts.
While I personally have no interest in the recent crop of small flat 9mm pistols, kudos to Smith for listening to the demands of the market and creating something with a lot of promise.
Train hard & stay safe! ToddG
(image courtesy of Smith & Wesson)