21-Apr-12 – 13:13 by ToddG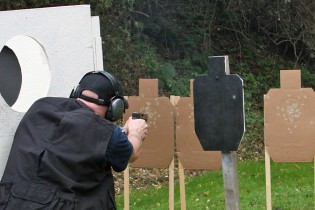 About a decade ago, I received some incredibly insightful advice from my friend  Erik Lund (now a member of FN's successful 3-gun competition team): if you want to get fast, sometimes you have to go so fast that you miss.
Like many folks, that was a foreign and perhaps even hostile concept. Miss? You mean, like, on purpose? What about every bullet has a lawyer attached to it or you can't miss fast enough to win and all that stuff? I'd spent the first ten years of my shooting career being taught that every miss was a personal failure. A miss meant you'd done something wrong, something you would work hard to fix so it never happened again. Misses were evil.
Nonetheless, when a guy like Erik — who is both a career law enforcement officer and an IPSC Grandmaster — offers you free shooting advice, you should at least give it some thought and maybe a little time on the range. Staple up a target, shoot too fast, miss, roll your eyes at the stupidity of it all and call it a day. Right?
Except it didn't work out that way. What I learned that day literally changed the way I've practiced, competed, and taught ever since.
When you push yourself just past the edge of the envelope — cue Kenny Loggins — you're literally driving the gun faster than you know how. If you concentrate, pay attention to the gun and what you're doing, you'll find yourself seeing the sights faster. You'll feel the trigger faster. Essentially, your eyes and your brain will catch up to the speed of the gun.
Obviously, we cannot just ignore accuracy altogether. Accuracy is the foundation of all shooting, and even when we want to get faster we need to do it within the context of hitting our target. But just like exaggerating accuracy at the expense of speed to improve marksmanship, truly building speed for speed's sake means letting ourselves accept less than 100% hits. In fact, learning to go fast pretty much requires we get less than 100% hits sometimes.
Just remember that "less than 100%" doesn't mean you should ignore your hits altogether. The number I like to use both in practice and when teaching is ninety percent. If you're shooting at a target you can easily hit 100% of the time when going at a comfortably slow pace, then when it comes time to work on building speed you should push yourself to the point where you're getting about 90% of your hits. If instead you find yourself getting eighty… seventy… fifty… or zero percent of your hits then it's time to stop, reset, and work on those marksmanship fundamentals some more. Ramp back up slowly until you find that 100% comfort zone. Then go just a little faster. And see where it takes you.
Train hard & stay safe! ToddG