13-Aug-12 – 08:45 by ToddG
If your interest in handguns is focused toward carrying on duty and/or for personal defense, is competition a good way to supplement your practice or is it a doorway to bad habits that could be detrimental to your primary goals?
Answer: yes.
The simple truth is that most people will put more effort into practicing for a shooting match they know is coming up next weekend than they will a gunfight that may or may not happen sometime in their lifetime. We like to beat our chests and talk about preparing for the real world but the human animal tends to have a very short attention span. Almost every truly exceptional shooter I know has spent substantial time shooting IDPA and/or USPSA.
For many, competition is also the first exposure they'll have to people who are serious about shooting. It's easy to be the best shooter you know when you're on the range all by yourself.  It's natural to convince yourself that your buddies are all good and as long as you can hang with them you're good, too. Step up to the challenge of attending a major match and you'll see a whole new level of good.
In fact, competition can be a reality check for many shooters — especially law enforcement and military shooters — who are forced to face the fact that what is good enough to "qualify" is woefully pathetic compared to what the average casual club-level IDPA or USPSA shooter can do on his worst day.
Another great thing about competition shooting is that it forces you to shoot someone else's problem. Instead of just setting up drills you want to shoot, you have to deal with courses of fire you've never seen or perhaps even considered before. Not only does this push you to round out your skill set but it can show you where you've developed bad habits. My favorite example comes from IDPA: plenty of people practice shoving a magazine into their pocket as part of a "tactical" or "retention" reload but then discover in the middle of a match it's not so easy if you're kneeling or prone or otherwise in some position that makes accessing that pocket difficult. Getting the mag in can be difficult… getting it back out if you need it can be impossible!
Possibly the biggest benefit of competition is that it is often the most stressful shooting many people will ever be exposed to. While obviously not the same as being in an actual gunfight, shooting in a competitive event in front of peers and strangers will do a great job of showing you just how easy it is to make mental mistakes under stress. Learning to stay focused on the task at hand and building experience fixing mistakes under pressure both have legitimate real world payoffs.
Competition can also have some pitfalls, though. The major action pistol games are as much about the game part as they are the pistol part.
There are certain skills that are critical to the game that have little or no real world value. Head over to YouTube and watch some random people shooting matches. Just a few examples:
Many stages are more about moving properly than shooting. When time is part of your score, the guy who can shave two seconds off his run by getting from Box A to Box B faster than you has a huge advantage.
Set-ups are another valuable game skill that have no real analogue in real life. A set-up is basically presenting your gun to the target as you step into a new position (like at a barricade or doorway). To do that properly you need to know exactly where the target is going to be when you're coming into position and you need to have made the decision to shoot it before you've put your eyes on it. Easy to do at a match, but not going to happen when searching a real building with real, thinking, moving, unidentified people.
Transitions (driving the gun from one target to the next) are yet another skill that competitive shooters work on that doesn't rate as much attention if your focus is just on defensive gun use. In a game, you know when the buzzer goes off exactly which targets you're going to shoot, how many times, at what location, and in what order. Things aren't that predictable in the real world.
Many of these issues can be brought together under the single heading of stage strategy. To be good at the games, you need to understand their scoring systems and their rules. Sometimes things that make perfectly good sense — like dropping an empty magazine on the ground — could be illegal. Some things that make no sense whatsoever — like exposing yourself to half a dozen targets at once instead of using available cover — might be key to getting the best score. Most stages at most matches actually give you a chance to walk through and possibly even pantomime your plan in advance. Taking those opportunities and using them properly is important for the game, but obviously antithetical to preparing to respond to a sudden attack.
So, you need to be honest with yourself about your motivation. Are you there to supplement your training or are you there to compete for the sake of competition? Both are perfectly valid choices, obviously. But the answer to that question is going to have an impact on what you practice. Time you spend working on competition-oriented skills is time you could have used to work on defense-oriented skills.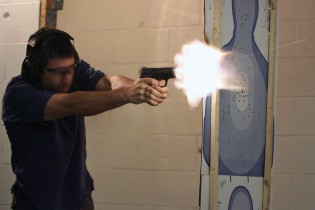 Another potential snare of competition shooting for the defense-minded shooter is equipment selection. When you go to a match, it's hard to look at the guys with their tricked out race gear when you're wearing a Glock 27 in an IWB holster under a sweatshirt (which is exactly how I shot my first USPSA match in the mid-90s). The temptation to compromise a little here and a little there can be strong. First you switch to a G34… because, hey, it's basically the same gun, right? But it's not. Seeing how you can shoot with a G34 isn't the same as seeing what you can do with a much smaller, greater recoiling G27. Then you switch to a faster holster. Now you're practicing to draw a different way and perhaps from a different location on your body. We said earlier that people will focus more on the definitely-game this weekend than the maybe-fight in the future. So where will your focus be, on your CCW gear or your game gear? On the other hand, if you're going to run your "real" gear you cannot use it as an excuse or a crutch. You're making a decision and that's 100% on you. Don't try to convince yourself you would have beat the World Champion if only your holster was a little faster or your sight radius a little longer.
So at the end of the day, there are pros and cons to competition shooting for the "defense-minded" shooter. But, the pros are pretty universal… and the cons are really only cons if you let them be. Because whether you stay true to your original purpose or give in to the dark side and become an absolute gamer, you're still getting more time on the range and more experience shooting complex problems under stress. As long as you don't fall into the trap of thinking that winning at a game makes you an honorary gunfighter, competition is a fun and effective way to become a better shooter.
Train hard & stay safe! ToddG