29-Sep-08 – 06:28 by ToddG
45,164 rounds
2 stoppages, 0 malfunctions, 2 parts breakages
Week 23 will have to be remembered as The Week Stuff Broke. I guess putting more than 3,500 rounds in a week through a gun that's been shot as much (and maintained as little) as the M&P Torture Test gun can do that.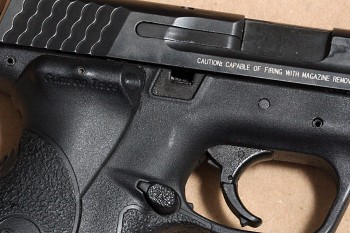 First, as you may have noted from the orange highlights above, we had our second parts breakage. The right side lever of the slide catch snapped off. 
The breakage didn't cause a stoppage of any kind … in fact, the breakage wasn't discovered until the next day during a photo shoot. Therefore, an exact round count isn't possible. The part broke somewhere between 42,710 and 43,361 rounds.
It was not unexpected. This is a known wear part, and if you search around the 'net you'll find other M&P owners who've had their levers break. Smith recommends the part be replaced in a normal maintenance cycle … but of course, we just kept running the original.
The gun has been fired approximately 2,000 times since the breakage and still hasn't had a hiccup. So unless you actually use the right side lever to drop or lock the slide, the breakage won't have any effect on your shooting. Still, later today a local armorer is going to be installing a new slide catch.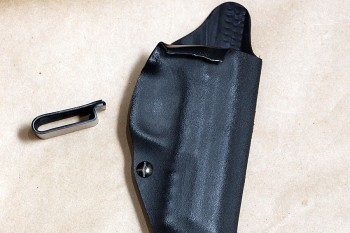 Next up, my second Looper holster, modified for appendix carry. As you can see from the picture, the belt loop snapped off. Ironic, since the entire reason the Looper was developed was to overcome the problem of breaking kydex belt clips! If you look at the enlarged photo (click on the image at right) you'll see a funny little burn mark right where the breakage occurred. That was me. When the holster arrived, it needed a bit of modification to get to the right ride height. Apparently, I let my heat gun get just a bit too close to the kydex. It still went seven weeks of daily carry not to mention fairly intense training (and literally thousands of drawstrokes) before the embrittled kydex snapped. Of course, this was also a prototype appendix variant, which is why the modification was necessary in the first place. Rich at Custom Carry Concepts now makes all of his appendix Loopers with the ride height we worked out.
And even though it was completely the end-user's fault, CCC is standing behind the holster and committed to replacing it once they're back into production in October. Thanks, CCC!
Coincidentally, this week I also began working with Mark Garrity of Garrity's Gunleather to produce a leather appendix IWB holster to similar specifications as the Looper. That plan was put in motion prior to the Looper breaking, and was based on my desire to see an equivalent holster in leather for those folks who prefer the feel, look, or durability of leather. Garrity — who is a full time cop during his "day job" — is a true custom holster maker willing to work with a customer on completely different designs to fit a user's needs. Most small shops like to call themselves "custom" but refuse to make anything other than the designs they've already developed. But Garrity's Gunleather is open to anything you can imagine (and afford!). Take a look at their photo album for some examples of Mark's work.
Finally, I lost a filling from one of my teeth. I know, it has nothing to do with guns … but come on, all in one week? Brutal.
See you next week … if I make it that long.
Train hard & stay safe! ToddG
Previous entries: