1-Oct-08 – 12:37 by ToddG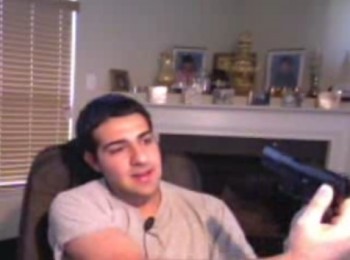 … or anything else. Yes, thanks to the wonder that is YouTube, now we can watch people who have no idea what they're doing give us product reviews on handguns they don't know how to handle.
This tool (the guy, not the Walther) reviews three pistols by pointing them at himself, usually with a loaded mag in the gun.
The Glock 23 review is the best, because apparently — and you will never see this in a Glock advertisement, Austrians are such prudes — he can use a Glock 23 to make "your mom" and "your sister" perform all sorts of sexually explicit acts just by pointing the gun at them.
Genius also explains his thoughts on .40 S&W +p ammunition, which is priceless.
"Cuz I'm from the streeets and I don't give a **** a'ight? So don't even be posting all this **** **** about gun safety and **** because I don't give a **** and I'll **** your life up. Let me tell you that right now."
It would be funny, but this is the kind of guy we all see teaching his friends how to shoot.
Read it while you can. Odds are it will be yanked off YouTube soon.
Train hard & stay safer than this nimrod. ToddG