22-Aug-12 – 09:01 by ToddG
Yute on pistol-forum.com put together an outstanding photo array demonstrating the proper (and improper) ways to holster a pistol if you carry AIWB*.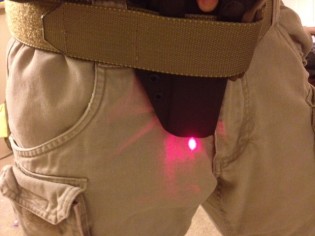 He uses a SIRT pistol to show exactly where the gun is pointed at various steps in the holstering process. With a little effort, the muzzle can be kept well clear of your body. The photos also illustrate the point that if you don't put forth a little effort while holstering (see, for example, the photo on the left), the gun will be pointed right at vital organs… thus leading to the AIWB Mantra, If you f*** up you will die. 
Thanks again to Yute for the excellent post.
* AIWB = "appendix inside the waistband" aka appendix carry
 Train hard & stay safe! ToddG
photo by Yute