18-Oct-12 – 10:13 by ToddG
While I've never been a cop, the topic of government issued handguns has certainly been an important part of my job for more than a decade. Eight years was spent at Beretta & SIG dealing primarily with big federal agencies and military entities. From 2009 to 2010 I acted as the outside consultant to the largest non-military small arms procurement in U.S. history, giving me an incredible opportunity to see the process from the other side. Obviously, I also see a lot of law enforcement officers on the range, both in open enrollment classes (like AFHF) and closed/contract classes.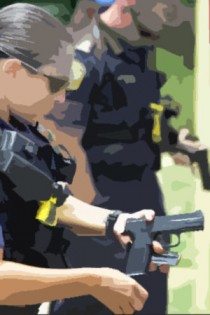 The number of different policies and philosophies regarding department/officer handgun selection might amaze you. At one end of the spectrum we have what many people think is typical: a single uniform gun, issued by the department, that every person, regardless of assignment, regardless of hand size or shooting skill, must carry at all times. But in fact, that isn't a very common approach.
At the opposite end of the spectrum is what I call "Cops as Anarchists," where the department policy says little more than it should use smokeless powder. Officers buy their own whatever-they-want, go forth, and conquer. Often, the officer is also responsible for buying his own duty ammo and proper maintenance of his pistol. This approach, I am sorry to say, is extremely common in some parts of the country.
As a gun guy, I'm philosophically opposed to shoehorning the same gun into every hand or expecting one gun to serve ideally in every role from SWAT to plainclothes detective. But at the same time, I've seen the brutal evidence of what happens when individual officers are given carte blanche to buy anything they want… because often they want really, really bad guns. The simple truth is that not every cop is a gun guy. Not every cop knows what to look for in a quality firearm. Not every cop is qualified to be his own armorer. All too often, decisions are made on appearance, size, and price rather than functionality, shootability, and reliability. Is the officer who struggles to qualify each year and avoids in-service firearms training like it causes AIDS really the best person to pick a duty weapon that he, his partners, and the local populace may need to depend upon in a critical incident?
For what it's worth, the best programs I've seen follow a fairly balanced line between the two extremes. If someone made me Chief of Anytown, USA tomorrow my firearms policy would be as follows:
Issue a standard handgun. This gun would be proven both through objective testing at major agencies and actual real world use by officers around the country over a number of years. We don't need to do our own tests and spend hundreds of thousands of dollars of taxpayer money. Neither will we run a quick evaluation/backyard BBQ party and pick the one we think is most nifty. Off the top of my head if I had to pick one, it would be the Glock 17. Expect every officer to qualify with the issued gun.
Allow individuals to chose from a limited list of tested, proven handguns in other sizes, calibers, and possibly brands. Department provides duty ammo; this provides a reasonable justification to limit choices to just two or three calibers. Department performs all maintenance on the pistol; this also helps keep the list of approved guns small, as the department needs to have both qualified certified armorers and spare parts for each brand & model it authorizes. For purpose of this example, I'd limit it to Glock, S&W, and HK pistols in 9mm, .40, and .45 calibers. And if I had to give one up, either .40 or .45 could go away without me losing a wink of sleep. Nine plus "something bigger" should be enough to satisfy everyone.
Officers are responsible for buying holsters, mags, and pouches for personally owned duty weapons (all based off of approved lists). Requirements for in-uniform duty retention holsters could limit which pistols can be carried in that role.
Upon selecting a personally owned duty weapon, the officer would first have to deliver it to a department armorer for inspection and test firing. If the pistol fails to meet inspection or proves unreliable during testing it is rejected. The officer still has his issued gun, with which he has qualified, until he can find a functional alternative.
Once a pistol has been selected and approved by the armorers, the officer must qualify with it. Qualification standard with a personally selected pistol would be higher (say 80%) than with the issued gun (say 70%). This would prevent officers from purchasing guns they struggle to shoot well and, perhaps more importantly, motivate officers to become better shooters. If you want a "better" gun, you have to earn it.
With the exception of undercover officers, there would be no special handguns that only some units/people could carry. For example, SWAT would not get a special gun. I've never understood the idea behind giving a supposedly "better" gun to your SWAT guys (who presumably do 90% of their work with long guns) and leaving a "lesser" pistol to your patrol officers (who presumably do 90% of their work with their handgun). I've met plenty of SWAT/tac guys who shoot better because they get more government-funded range time and ammo. I've yet to find a team that was better because they had a cooler gun. (undercover guys, by definition, sometimes need guns that are specifically not authorized by any local law enforcement agencies)
When an officer is involved in a shooting and his pistol is seized as evidence, he is issued another (if he was carrying the standard issued gun) or he can go back to his issued pistol until such time as either his personally owned gun is returned from evidence or he acquires a new one.
Of course, it's easy for me to type all that out. I don't have budget considerations. Buying every officer a new gun, plus ammo, leather, spare parts, etc. will be costly. Neither do I have political considerations. You don't want to be the guy telling Officer Tex Manly that the homemade 1911 he's been carryin' since '79 is no longer authorized.
But neither do you want to be the FI (firearms instructor) or armorer that is called to the stand and asked under oath whether Officer Manly's gun was one you would personally trust enough to carry on duty…
Train hard & stay safe! ToddG
(special thanks to Chuck, Steve, Allen, and SLG for their professional input on this article)