2-Nov-12 – 09:36 by ToddG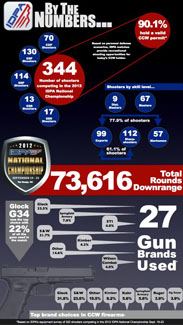 IDPA Headquarters just produced a neat little graphic on the Down Zero Blog that shows the breakdown of shooters at this year's Nationals by class, division, etc.
The number that really stuck out to me, though, was 22%. That's the percentage of competitors who were shooting Glock 34 pistols. And that number is actually misleading in a sense, because that's 22% of the 344 total shooters. When you look at just the two divisions where the G34 is legal (SSP and ESP), it's actually 31%. In other words, one out of every three shooters at the IDPA Nationals was shooting that exact pistol when they had the option.
Soon they'll have to rename IDPA Nationals to GSSF-Level 2.
Train hard & stay safe! ToddG