8-Nov-12 – 08:21 by ToddG
Smith & Wesson announced yesterday the introduction of its upcoming C.O.R.E. ("Competition Optics Ready Equipment") series. These guns will feature an optics mounting system that reportedly allows the use of six different popular mini red dot sights including:
Trijicon RMR
C-More STS
Leupold DeltaPoint
Docter
Insight MRDSTM
JPoint
Initially, 9mm and .40 S&W guns will be available in both 4.25″ and 5″ models.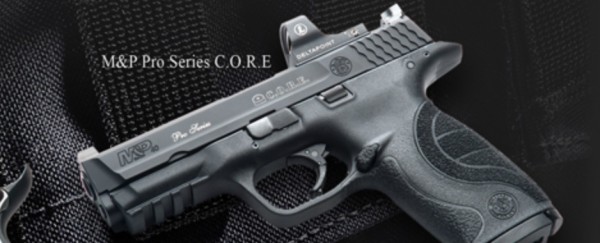 While I'm not personally a fan of slide-mounted optics (which is a topic for another time), it's not surprising to see more pistol manufacturers jumping on the bandwagon. Smith's approach appears to be a simplified version of the innovative Unity ATOM that has received such rave reviews from testers. The Smith version appears to put the optic much higher on the gun than the ATOM, which is a negative. But without seeing a C.O.R.E. and an ATOM for the same model gun side by side, that could just be me.
Ironically, the addition of precise red dot optics on the M&P series pistols may further exacerbate ongoing accuracy issues the company has had with the full size 9mm guns.
Train hard & stay safe! ToddG