4-Apr-13 – 15:10 by ToddG
As threats of a new federal ban continue and some states already find themselves subject to new stricter limits, a question that arises often is, "How many mags should I have?"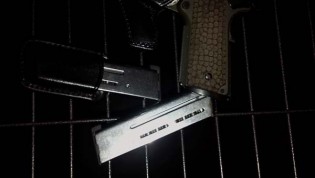 The simple answer is that you can never have too many magazines. Get as many magazines as you can reasonably afford. Beyond that, I'd say:
Twelve (12) total magazines, minimum, for a double stack carry gun.
Fifteen (15) total magazines, minimum, for a single stack carry gun.
At a minimum I want at least six range magazines. This makes reload practice more convenient and means I've got enough magazines to deadline one or two without impacting my practice too severely. For single stack guns I usually keep twice that many in my range bag simply because it's convenient to have a metric ton of ammo loaded and ready to go.
I want completely separate magazines for carry or home defense. Personally, I tend to carry one spare magazine for high-capacity pistols or two spare mags for low-capacity pistols. After being loaded for a while, I'll cycle these magazines out to range duty. "A while" varies depending on the type of magazine and, candidly, how many spares I have lying around. It could be months, it could be a couple of years.
I also want two sets of fresh replacement magazines. If I carry one in the gun plus one spare, that means four extra mags; for single stack guns it would be six. This allows me to replace my carry magazines at a whim and still have another whole set in case of a problem. These mags are kept new and unused until they're needed.
Magazines are wear items. As a general rule, as soon as a magazine becomes suspect for any reason — worn spring, bad follower, questionable feed lip geometry — I throw it away.* Magazines are intended to be disposable. Sure, you can replace that spring or follower but if one part is worn out how long before another causes a problem? If you have a couple dozen magazines for your chosen handgun it's a lot easier to throw one in the trashcan than if you have only four.
Keep in mind that you do not have to buy all of these magazines at once. Two or three probably came with your pistol. If you're lucky enough to have an identical spare or training gun, you've got twice that number. When circumstances and finances allow, buy one or two more. It's easier to spend $40-60 once in a while than to pay out $500 all at once just for some mags.
Train hard & stay safe! ToddG
* As anyone who has followed the various pistol-training.com gun tests knows, this rule isn't followed during those evaluations. Evaluating the source of problems, even magazine-related problems, is part of the process. Even then, no magazine that is questionable will ever get used again for carry or any other non-range purpose.