22-Nov-12 – 11:48 by ToddG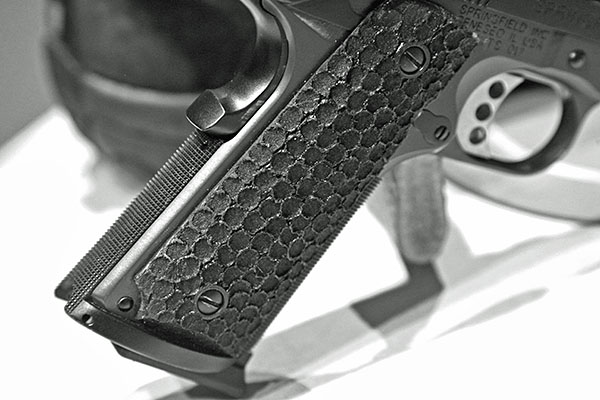 I continue to be incredibly impressed with the VCD Grips I'm using on the SACS/Warren test gun. Yesterday I managed to sneak in a quick range session with some friends on the West By-God Virginia border, including F.A.S.T. Coin recipients Ernest Langdon and Joe S. Everyone spent a mag or three trying the test gun and the grips were very well received.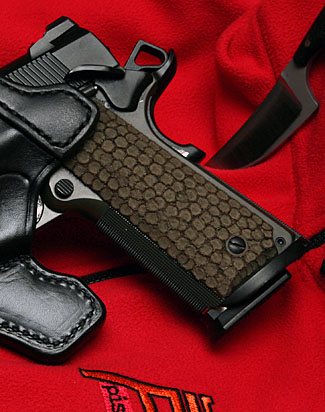 As coincidence would have it, on my drive home I received an email from VCD Grips about their holiday sale. The regular tapered grips — which I have on my guns — are being discounted by $9, from the normal $45 down to $36. The magwell grips are discounted by $6, for a total of $49. And shipping is free. (note: their online store still reflects the normal prices, they issue the discount as a refund… it's a web store thing)
If you haven't tried them yet, you really owe it to yourself to test drive a set of these grips on your 1911. Each set is made by hand and they provide a level of grip stability that you have to experience to believe. The method VCD Grips uses is very similar to the hand stippling some folks like on their polymer framed guns and provides substantially more grip than any kind of machine cut checkering or patterns on standard 1911 grips.
My carry gun has been wearing them for about ten weeks. They have been a little aggressive on some Under Armor t-shirts, abrading the material a bit. But my cotton under shirts, polos, sweatshirts, etc. have all held up perfectly fine. Nor have I found the grips uncomfortable even when shooting 800-1,000 rounds in one session.
As you can tell, I'm a total convert to the VCD Grip church. I've already got a set on order for the upcoming Heirloom Project gun, too.
If you have a 1911, you owe it to yourself to give these things a try. They're not the prettiest grips on the market, but your shooting will sure be a lot prettier…
Train hard & stay safe! ToddG
(I am in no way affiliated with VCD Grips and receive no compensation from VCG grips; the VCD grips I'm currently using on my pistol were provided free of charge for evaluation related to the SACS/Warren test)