12-Dec-12 – 11:18 by ToddG
A recent discussion at pistol-forum.com regarding night sights motivated me to take this photo: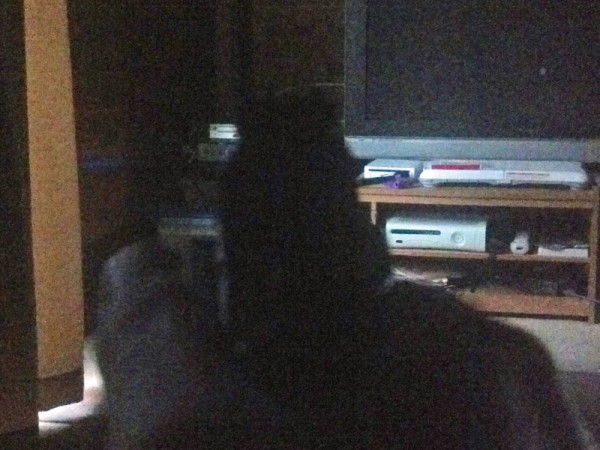 Pretty straight forward, yes? I shot it with my phone sitting on my couch in the living room. Literally, without moving my butt one inch while reading the aforementioned thread I was able to look up and see a very typical lighting condition which seems to be completely ignored by most people in the debate about night sights.
Is there enough light downrange to identify my target properly? Yes.
Is there enough light on the gun to line up my sights properly? No.
Is there enough light downrange to line up my sights properly? No.

Simple. So in the above situation, either you've got night sights that allow you to align the muzzle with the target, or you pay homage to your own little "hope & change." It drives me crazy when people, especially trainers, say things like "If I can see the target well enough to know I should shoot it, I can see my sights." Bull crap. It should be obvious to anyone, but in case it's not, it requires far less visual acuity to identify a deadly threat than you need to line your sights up properly. Seriously, you're pointing your gun at it already… you probably did that identification thing already, didn't you?
I recommend a pretty straightforward experiment to evaluate this yourself. First, take the slide off your pistol. Now walk around your house with it, holding it where you would if you were shooting. Aim at objects everywhere: out in the open, in corners, in nooks and crannies. Go from room to room just like you normally would. Don't turn lights on or off, just leave them as they are normally. Try to get a real shootable sight picture like you literally had to make a hit, just like in real life. If you can, try to do it during daylight, at dusk, and at night. You'll quickly see that there's a tremendous range of lighting conditions. Sometimes you and the target will be in the same light. Sometimes the target will be lit but you (and your gun) are in shadow. Sometimes the opposite will be the case.
Odds are you'll come to two conclusions. First, sometimes, night sights aren't enough. Second, sometimes, night sights (front and rear) are the difference between being able to aim and not. It's not rocket science. Though I guess it is nuclear science…
Train hard & stay safe! ToddG