4-Jan-13 – 12:50 by ToddG
When I was shooting IDPA more seriously, each year our team would attend a major match that invariably had a pick-up gun: a dedicated gun provided by the match staff that you had to use for part of one particular stage. On its face it makes for an interesting twist, but the reality is that pick-up guns really don't belong in serious matches.
Why? Because once you add a different gun to the game that every competitor must use, you're disadvantaging some competitors compared to others.
As an example, one year the pick-up gun was a j-frame. Your match score depended on your ability to shoot that j-frame. Instead of being evaluated based on the gun you chose to shoot, you were evaluated based on a gun someone else forced you to shoot. Maybe you're a revolver stud and it gave you a leg up compared to the competition… or maybe you've never shot a long, heavy trigger in your life and your score was dealt a significant blow.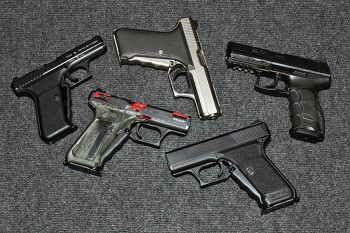 It's all well and good to chant that "people should be able to shoot anything they pick up" but we're not talking about World War XYZ. We're talking about a competitive event that is supposed to be, above all else, fair. It's fair to expect every competitor to be familiar with his own handgun. It's fair to expect every competitor to practice with his chosen handgun. But throw an HK P7M8 on the table and suddenly the match results depend more on who knows how to run a squeeze cocker than who knows how to aim & shoot fast.
Which raises two other issues about pick-up guns that make them unfair:
Not everyone can operate every gun on the planet. I've watched shooters who didn't know how to unload a revolver properly because they've never used one. I've seen competitors who couldn't rack the slide on some guns. One of my favorite pick-up gun moments was when we used a DAO Beretta at a local IDPA club match at the NRA back in the 90's: an IPSC Open GM picked up the gun and thought it was broken because the gun wouldn't go off when he put a few pounds of pressure on the trigger. He pressed the trigger a bit, racked the slide to clear a malfunction; pressed the trigger a bit, racked the slide; pressed the trigger a bit, racked the slide… he never got off a round. All because he didn't realize there were semiauto handguns that needed 12 pounds of pressure on the trigger to go bang.
What do you do when the gun has a malfunction? Normally in an IDPA or USPSA match, if your gun malfs that's your problem because you're responsible for your gear. But when a pick-up gun has a stoppage, is it really fair to penalize the shooter? Maybe he doesn't use that particular type of gun because he knows he can't run it without a malfunction. Maybe the gun just hasn't been maintained adequately during the course of a long match. Counting a pick-up gun's problems against the shooter is patently unfair. But letting every competitor get a reshoot with a balky gun is a major administrative hassle.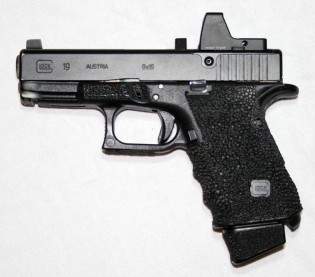 If you use a common gun, such as a Glock, then you're benefiting the competitors who are already shooting Glocks as opposed to the competitors who are used to running guns with different controls, grip angle, etc. If you use an uncommon gun or one with an odd feature, such as the mini red dot sighted Glock pictured here, then you're benefiting the competitors who are familiar with that oddball gun at the expense of the folks who showed up thinking they were going to be judged based on the pistol they brought, per the rules.
So while using a pick-up gun might seem like a fun idea to the match staff, primarily it just adds a serious degree of unfairness to a match.
Train hard & stay safe! ToddG
(Glock photo courtesy of DocGKR)