6-Feb-13 – 16:21 by ToddG
Catching up on two months of blogs from around the net I came across an interesting post about safety. It opined that the Cardinal Rules should be followed not just with live firearms but with blue guns, SIRT pistols, and the like. It's a view shared by others, certainly; at the pistol-forum.com Rogers Shooting School class last year, the Rogers instructors made the same point. The idea is that gun safety is a matter of habit, and training "guns" need to be treated the same as regular ones.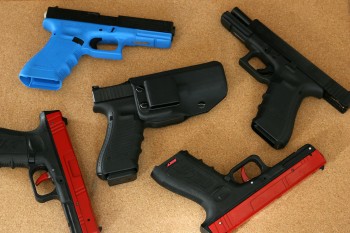 However, I've got to say I disagree. Blue guns, SIRTs, and the like exist specifically because we can't use a live weapon for certain things. For example, I do a lot of demonstrations using blue guns and SIRTs when I teach. I could do all those things with my carry gun, but using the training aide allows me to point it wherever I want. Students get to see my grip and stance from every angle, not just behind me from a safe distance. Students get to see how certain techniques pertain to realistic targets (i.e., real people) instead of just static cardboard and steel.
Now, I do ask students in advance if anyone has a problem getting a blue gun or SIRT pointed at him. Over the past five years I've had maybe five people raise their hand. But that's fine. I make sure not to use those as a backstop.
Training guns can also have tremendous value in force on force training… and in fact, they can be used under circumstances when a real FOF weapon (like a Simunition pistol) would be too dangerous. Losing that training value in the name of blind adherence to the safety rules is silly.
That's another reason I don't like the "treat all gun-like objects as if they were loaded guns" metarule. Safety shouldn't be a game or something we pretend to do. A real gun should be treated differently… because it's a real gun, and real guns can be dangerous if you don't follow the safety rules.
And when you get right down to it, even the people who advocate the "treat all gun-like objects" don't really do that. If you're handing SIRT guns out to first time students to teach them gun safety and one of them inadvertently points it, finger on trigger, at the head of the student next to him… are you kicking him out of class? No. You point out it's wrong. If that same student did the same thing with a loaded gun, would you simply correct him and let him stay in class? I hope not.
Train hard & stay safe! ToddG